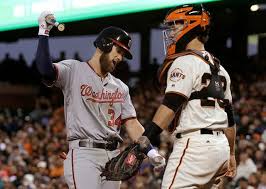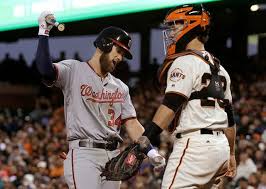 In this late night Friday MLB pick, the Washington Nationals (60-42) play the San Francisco Giants (59-43) at 10:15 p.m. on the West Coast. This looks to be quite a contest as the leaders in the NL East, Washington, play the leaders in the NL West, San Francisco.
The Nationals are five games up on the second-place Miami Marlins. They are 4-6 over their last 10, but they have won their last two. The Giants are two games in front of the Los Angeles Dodgers. The team by the bay is 2-8 over their last 10, and they have lost two straight. Last night the Nats beat S.F. 4-2.
Pitching Matchup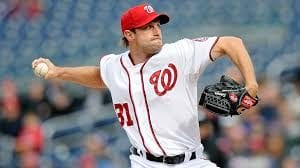 Two righties start this game. Our Friday MLB pick has Max Scherzer (ERA 2.92, 10-6) on the mound for the Nationals, while Jeff Samardzija (ERA 4.22, 9-6) starts for the home team. Washington's Scherzer has not had a decision in his last two starts. Both of these contests were close with the Nationals winning beating San Diego 3-2 and losing to Pittsburg 2-1.
Last month over six starts he went 4-1 with no decision on one game. His ERA for the month was 1.96. In July he has posted a 1.33 ERA. Scherzer has had eight games where he's struck out 10 or more, and on May 11 when he beat the Detroit Tigers 3-2 he notched 20 Ks. He has been a solid seven-inning starter all season.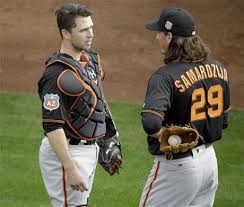 On the other hand, Samardzija has had a tough go of it the past two months. He started off the season fairly strong. In the first two months, he was 7-3 with one np-decision. His ERA was 2,92. Over the course of June and July, Samardzija has a record of 2-3 over nine starts and an ERA of 6.69.
The Giants have lost five of his last six starts. In his last nine games, he has offered up 60 hits, 36 runs, and 14 round-trippers. He's definitely the underdog in our Friday MLB pick. If he's going to have a chance, he needs to start strong and keep his team in the game. If Samardzija doesn't, it can be an early night for him. How about offense? Are there some bats that can help the San Francisco Giants to victory tonight?
Offensive Output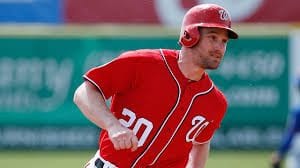 If the Giants can generate some runs, they could have a shot tonight in our Friday MLB pick. They have been deficient in that area. However, former Minnesota SS Eduardo Nunez makes his debut in a Giants' uniform. He comes to the club with some solid hitting chops, averaging .296 at the plate, driving in 47 runs, and hitting 12 homeruns. He should provide some good numbers but nothing extraordinary.
The Giants are dealing with injuries. Their top hitters are Buster Posey, Angel Pagan, and Brandon Belt. Each is hitting right around .285. Belt has the most hits (99) and best OBP (.393). Posey leads the team in homers with 12. Brandon Crawford, who is hitting .272, leads the club in RBI with 63.
For the visiting Nationals, the big offensive player is Daniel Murphy. Murphy has 20 HR, 75 RBI and a .351 BA. His OBP is .391 and he's collected 130 hits. Murphy leads the team in all five of these categories. Wilson Ramos is also having a solid season with 15 HR, 54 RBI, and a .333 BA. We like this duo in our Friday MLB pick.
Friday MLB Pick
Pitching certainly favors the Nationals, especially against a struggling team like the Giants and their hard-luck starter Samardzija. The Giant offense is still waiting for some key players to come back, while the Nationals have some productive hitters. Our Friday MLB pick suggests you take the Washington Nationals in this late night game.
The Friday MLB Pick: Take the Nationals with the moneyline at -144