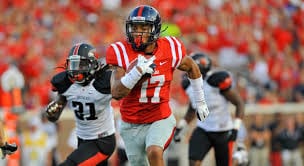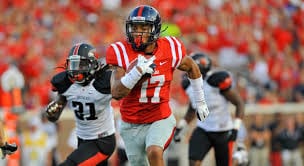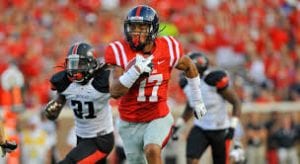 Two teams from the South Division of the SSC meet today. In our free pick Ole Miss visits Arkansas. Both teams have dynamite offenses, with each compiling more than 440 yards per game. The Rebels are averaging 490 YPG while the Razorbacks have been good for 448. Interesting to note that in the South Division, Ole Miss is fifth with a conference record of 1-1 while Arkansas is seventh/last, offering a SCC record of 0-2. The #12 Rebels have a record of 3-2 while the #22 Razorbacks are at 4-2.
Ole Miss Rebels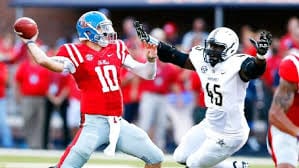 Rebel QB Chad Kelly (66.1 COMP%, 13 TDs, 4 INTs, 10 Sacks) is primarily a pocket passer. The senior has performed well this season, with his top target being senior TE Evan Engram (30 REC, 479 YDs, 16.0 AVG, 4 TDs). WR Damore'ea Stringfellow (20 REC, 305 YDs, 15.3 AVG, 2 TDs) is also a go-to guy. The running game is anchored by Akeem Judd (56 ATT, 302 YDs, 5.4 AVG, 2 TDs) and supplemented by Eugene Brazley (25 ATT, 181 YDs, 7.2 AVG, 2 TDs).
The Rebel defense cannot be accused of being stingy. They're allowing 29.6 PPG, as teams are gaining 449.4 YPG. They have a tough time stopping both the rush and the pass. We expect the Ole Miss D will not be able to shutdown Ole Miss.
Arkansas Razorbacks
The Arkansas Razorbacks are averaging 35.0 PPG. That's a hefty average. Their running game is this team's strong suit, although their air attack is fairly potent too. Junior QB Austin Allen (63.6 COMP%, 15 TDs, 5 INTs, 14 Sacks) is, like Kelly, a pocket passer. Allen is not very mobile. He's got four quality receivers to toss to, including TE Jeremy Sprinkle (18 REC, 194 YDs, 10.8 AVG, 4 TDs), WR Jared Cornelius (19 REC, 408 YDs, 21.5 AVG, 4 TDs) and WR Keon Hatcher (18 REC, 320 YDs, 17.8 AVG, 5 TDs). Sophomore RB Rawleigh Williams III (113 ATT, 605 YDs, 5.4 AVG, 5 TDs) can chew up the yards.
The Razorbacks are allowing the opposition an average of 27.5 PPG. That's a tad better than the Rebels but not much. Total yards they have allowed stands at just below 399 per game. They will mute the Ole Miss attack some, but Arkansas will not shut them down.
Our Free Pick Ole Miss Visits Arkansas
In our free pick Ole Miss visits Arkansas. We expect this to be a fairly close game. We also think that a lot of points will be scored, considering both clubs tend to score a lot of points, while allowing their opponents to do the same. Take the over on this game, which is at 66. The game will be played tonight at 7:00 pm ET at Razorback Stadium.
Our Free Pick Ole Miss Visits Arkansas: Take the Over at 66 points