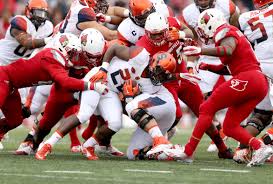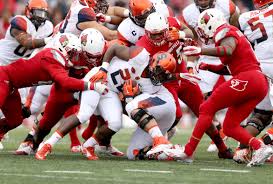 Two undefeated teams meet on Friday night, September 9 in the Orange Dome. In this free college football pick Syracuse plays Louisville in a game where the Orange will try to prove that they deserve to be on the same field as the Cardinals. You see, Louisville is coming off of major drubbing of Charlotte last week. The Cardinals took it to their visitors 70-14. Syracuse had a decent opener too, beating Colgate 33-7. But is the Syracuse Orange, who we picked to finish a weak sixth in the ACC Atlantic any match for the Louisville Cardinals, who we believe will finish a strong third in that same conference and division?
Louisville Offense vs. Syracuse Defense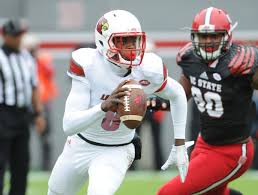 Last week QB Lamar Jackson was a highlight reel, completing 73.9% of his passes, passing for 286 yards, and hitting for six touchdowns. He also ran for 119 yards, scoring two TDs on the ground while averaging over 10 yards per rush. Backup QB Kyle Bolin also got into the act as he threw two scores. Those eight passing touchdowns were spaced amongst eight receivers.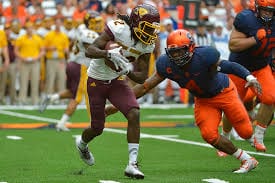 The Syracuse defense held the Colgate offense to a total of 143 yards. But it's doubtful they will be able to perform in the same manner against Louisville. The Orange D-line is lacking although there's strength in the LB unit and secondary. If the Orange can get some exemplary play from MLB Zaire Franklin and CB Antwan Cordy, then they may hold Louisville to under 30 points, but that won't be easy.
Syracuse Offense vs. Louisville Defense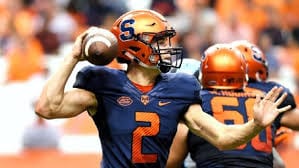 The Orange offense did well in their initial game. However, that was against Colgate. Within their conference, the Orange running game is weak, while their pass attack is about average. That may make for a long day for this team's offense, which has the weakest line in the league. Syracuse QB Eric Dungey looked fairly solid against Colgate, completing 85% of his passes for 355 yards and two scores. He was sacked twice. He'll be looking to connect with Amba Etta-Tawo. Etta-Tawo caught 12 passes for 210 yards, averaging 17.5 yards, and scoring a TD.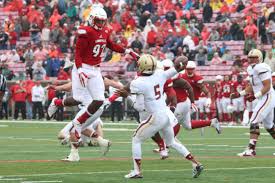 For the Cardinals, the weak link on D is their frontline. Still, they are better than the Syracuse D-line and they are more athletic than the Orange O-line. The Cardinal LBs are tough and tenacious and include sack masters, a massive talent. SS Antwan Cordy is a threat to take down the quarterback and to pick off passes. The Cardinal defense should do well against the Orange, as we expect them to be able to get to Dungey and harass him. If they can manhandle that Syracuse frontline, the Orange will be shutdown.
Free College Football Pick Syracuse Plays Louisville
In the past five years, these two teams have met four times. The Cardinals have won three of those games including last season's November 7 meeting where they beat the Orange and the 14-point spread 41-17. We expect more of the same in this game. Take Louisville at -15.
Free College Football Pick Syracuse Plays Louisville: Cardinals at -15