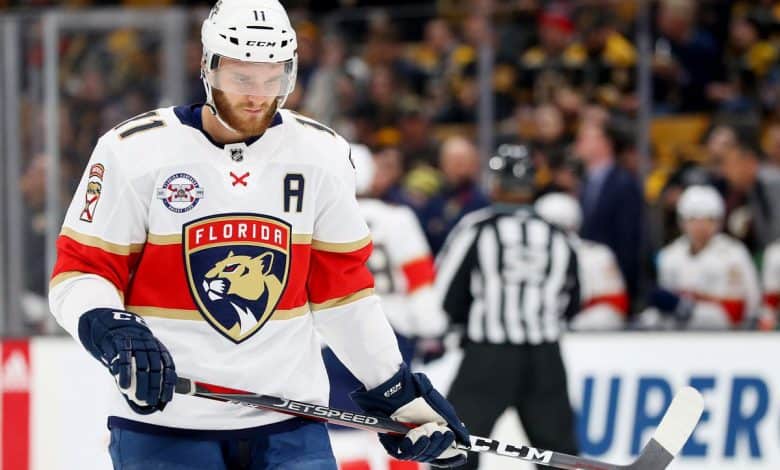 Wednesday night, the series shifts back to Tampa for Game 6 between the Panthers and Lightning. After the first two games, it seemed as if the Lightning were well on their way to victory; however, the Panthers have won two of the last three as they aim to force a Game 7.
Here is a quick look at the series so far, along with key players to watch and a free betting pick. Tampa Bay is a solid -158 at home, while Florida is a +134 underdog.
Series Recap
The series got out to an exciting note, with Game 1 providing a handful of lead changes and memorable moments. However, thanks to a pair of goals, including the game-winner from center Brayden Point, the Lightning prevailed 5-4 to steal the series opener on the road. Right-wing Nikita Kucherov also netted a pair of goals for the Bolts, both coming on the power play.
Even though Florida decided to start Chris Driedger over Sergei Bobrovsky, Game 2 was about the goalie in the other crease. Andrei Vasilevskiy was the first star of the game, making 32 saves and helping the Lightning win 3-1, giving them a 2-0 advantage before heading back to home ice for Games 3 and 4.
Facing a two-game deficit and playing on the road, the Panthers managed to pull off some late-game heroics for Game 3. Despite allowing five goals in the second period, Florida sent the game to overtime thanks to third-period scores from right-wing Patric Hornqvist and defenseman Gustav Forsling. Then a little under six minutes into OT, left-wing Ryan Lomberg beat Vasilevskiy on a breakaway to get the Cats on the board with a 6-5 win.
Saturday's Game 4 showed how dangerous the Bolts are on offense. Despite getting outshot 41-26, Tampa Bay scored three times in the first period and twice in the second, going on to win 6-2 to put them on the brink of advancing to the next round. Among the notable performances, left-wing Alex Killorn had two goals and two assists, while Kucherov scored another power-play goal to go along with a trio of assists.
Finally, facing elimination, the Panthers decided to roll the dice with rookie netminder Spencer Knight in Game 5. Despite allowing a goal within his first minute, the 20-year old was sensational, making 36 saves in Florida's 4-1 victory and earning the first star of the game. Right-wing Mason Marchment scored his second goal of the series, while center and captain Aleksander Barkov had a pair of helpers.
Who to Watch
Florida's chief playmaker in this series is left-wing Jonathan Huberdeau. In addition to two goals, Huberdeau leads the team with eight assists. Barkov is up on the list with seven total points, six of which are assists. However, it's safe to say that all eyes will be on Knight, who dazzled in his playoff debut but now has to save the Panthers again on the road.
For Tampa Bay, Kucherov remains the leader in points with nine, as his three goals are tied for the team lead. Killorn and Point are also up to three goals this series, with Killorn just two points behind Kucherov. The number of quality point-producers on the Lightning is amazing, as nowhere in the series recap did we mention d-man Victor Hedman or center Steven Stamkos, who have seven and six points, respectively.
Key Stat
Although they have spent the series in a deficit, advanced numbers show that the Panthers have actually out-played the Lightning as a whole. Through five games, the Panthers are at a 58.8 xGF%, or expected goals rate, meaning that they're creating the majority of scoring chances between both teams. The same applies for their 60.8 high danger chance percentage, which means that Florida has had over 60 percent of all high danger chances this series.
Betting Pick
Based on the see-saw in net through the first four games and the advanced scoring numbers, one has to wonder what this series would look like if Knight had started more than one game. Regardless, Florida is one win away from sending things to a Game 7 at home and one loss away from seeing their season come to an end.
Tampa Bay should be at an advantage if they get a decent number of power-play opportunities, as they are 7-for-17 this series. That also helped Florida in Game 5, as they held the Bolts to just two power-play chances the whole game, their lowest of the series.
This was a series I expected to go seven, and after Knight's performance in Game 5, I think the Panthers have renewed confidence to make it happen. I'm backing the underdog Cats to even things up and send this fun series to a seventh and final game.
Pick: Panthers +134