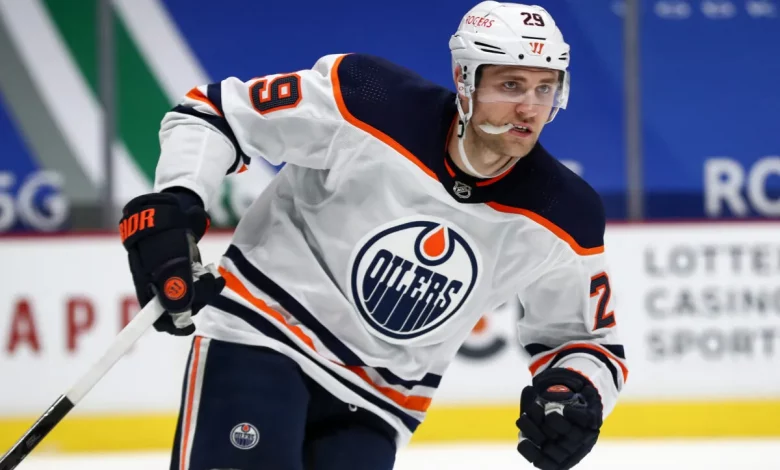 The Edmonton Oilers (40-25-5) visit the San Jose Sharks (29-31-8) in their third of four meetings this season, with the first two games going to the Oilers.
Following 3-0 and 5-2 victories back in February and March against the Sharks, the Oilers look to make the season series 3-0 and add to their current 4-game winning streak. The Sharks, on the other hand, look to end their current three-game losing streak.
The Oilers opened up as favorites with moneyline odds of -180 and the over/under set at 6.5 goals. Will the Oilers have what it takes to add a 5th game to their winning streak, or will the Sharks end both their own losing streak and the Oilers winning streak? Find out our prediction below.
Can the Oilers stay hot?
The Edmonton Oilers have done pretty well this season when visiting California, as they have gone 7-1 against the Anaheim Ducks, L.A. Kings, and San Jose Sharks. In those eight games, they have covered the spread six times with game scores such as 6-1, 5-2, etc.
Against the Sharks, who they play tonight, they covered the spread in both previous meetings. The Oilers have been playing well enough lately to do that again tonight as they have won five of their last six games.
The Oilers have been getting hot again, and with playoffs around the corner, they couldn't have picked a better time. In their last six games, they have outscored their opponents 32-21.
Their star duo in Connor McDavid and Leon Draisaitl, have scored a combined 25 points in those same six games, with each getting roughly 2 points a game. Both #1 and #2 in league scoring, it is hard to look away from these two who are starting to look in perfect playoff form.
With a team average of 5.3 goals in their last six games, the Oilers are hot and don't look to cool off anytime soon.
Will the Sharks' struggles end?
Opposite of the Oilers, the Sharks are trending towards the bottom of the league as they are currently the 23rd overall team in the NHL standings. Losing is something the Sharks have been used to as they have only won 5 games in their last 15 games.
This season, the Sharks score roughly 2.63 goals per game while allowing 3.18 goals against. Allowing more goals scored against than goals scored for certainly won't lead to many wins.
There is some glimmer of hope for this Sharks team as they currently rank as the 3rd best penalty-killing team this year with a 84.9 PK%. That will be heavily relied on when the Sharks are down a man as their opponent is the 3rd best Power Play team with a 26.2 PP%.
On top of that, the Sharks are actually one spot ahead of the Oilers in GAA this season so expect goals to be scored by both teams.
Although the team has struggled lately, some of their top guys like Tomas Hertl have been getting things done offensively, who has seven points in the last five games. Look for him to continue this as he looks to end his team's current three-game losing streak.
Betting Pick
With the offensive scoring advantage going to the Oilers and with how hot they have been lately, the pick is Edmonton here. Go with them to not only win but to also cover the spread.
With the two previous matchups between the Oilers and Sharks ending in 3-0 and 5-2 Oilers wins, it is safe to say the Oilers will continue their dominance over the Sharks. Look for stars McDavid and Draisaitl to continue their hot streak as well.
Free Pick: Oilers -1.5 (+135)