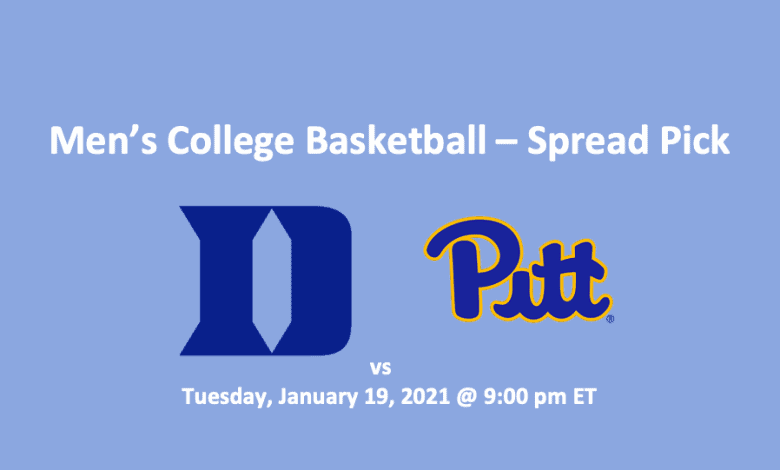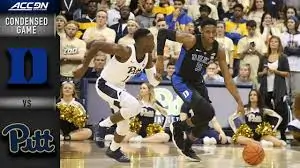 Our Duke vs Pittsburgh pick has the Panthers favored at -4.0 (-112), while the underdog Blue Devils are listed at +4.0 (-108). Duke and Pittsburgh both have 3-1 ACC records and are tied for fourth in the ACC with the Panthers. The two teams are 1.5 games behind the first-place Virginia Cavaliers. The Blue Devils are 5-3 overall. Overall, Pittsburgh is 7-2. In their last five games, Duke has gone 3-2. Their last contest was played on January 12 versus Virginia Tech. VT beat the Blue Devils 74-67. The Panthers have gone 4-1 in their last five contests. They have won two straight games, beating the Syracuse Orange both times, 63-60 and 96-76. Pittsburgh last played on January 16. This game will be played Tuesday, January 19, 2021 at Peterson Events Center in Pittsburgh, PA. Tipoff is scheduled for 9:00 pm ET.
Duke vs Pittsburgh Pick – Stats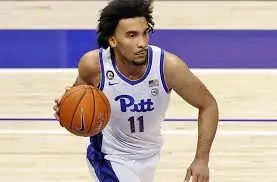 The Blue Devils are averaging 74.8 PPG, while they are allowing opponents 71.6 PPG. That gives them a PF/PA differential of +3.2. They have a 45.5% field goal success rate. The Panthers are recording 73.7 PPG. At the same time, they are giving up just 65.3 PPG. Pittsburgh brings a healthy differential of +8.4 PPG, which gives them an overall PF/PA differential of +5.2. Pittsburgh is shooting 43.2% from the court.
Our Duke vs Pittsburgh pick observes that Pitt is outrebounding Duke 43.2 PG to 37.3 PG, and they have notched 15.4 APG while Duke is recording 14.8 APG. On the other hand, Duke is a bit better on blocks (4.6-3.7) and steals (9.1-6.3). The Blue Devils have solid edges when it comes to threes (34.0% to 30.8%) and frees (68.1% to 64.2%). Both teams are averaging right around 13.5 TO.
Blue Devils vs Panthers – Players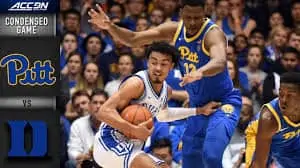 Duke forward Matthew Hurt leads the Devils with 19.6 PPG and 8.5 RPG, while forward Jalen Johnson posting 1.6 BPG while scoring 9.6 PPG and grabbing 6.6 RPG. Hurt is hitting 53.0% of his field goals and 44.4% of his threes. Three guards share the backcourt, Jordan Goldwire, DJ Steward, and Jeremy Roach. Goldwire leads the team with 4.3 APG while scoring 7.5 PPG and making 2.9 SPG. Steward is good for 14.0 PPG, while Roach is scoring 11.1 PPG.
For Pitt, forward Justin Champagnie is good for 18.7 PPG and 12.9 RPG. He's a 49.1% shooter. Additionally, Champagnie is averaging 1.0 SPG and 1.1 BPG. He, like Hurt, is the anchor in the paint. Guard Xavier Johnson is a major playmaker, averaging 5.6 APG as well as 15.1 PPG and 4.4 RPG. Guard Au'diese Toney, who's shooting 50.6% from the floor, is hitting for 15.9 PPG while averaging 6.1 RPG. Also, in the backcourt, Nike Sibande is hitting 50% of his threes while scoring 5.5 PPG.
Duke vs Pittsburgh Pick – Final Word
Our Duke vs Pittsburgh pick likes Pittsburgh in this game. We think it will be close, but we find that the Panther D will be key. Duke will look to dominate in the paint, while Pitt will look to work inside and out. Duke's Hurt is a premium player and will be tough to stop. Still, we do expect that the Panthers will prevail. For another Duke vs Pitts pick see Carl Taylor's article.
Prediction Summary – Duke Blue Devils vs Pittsburgh Panthers
Point Spread Pick – Pittsburgh Panthers at -4.0