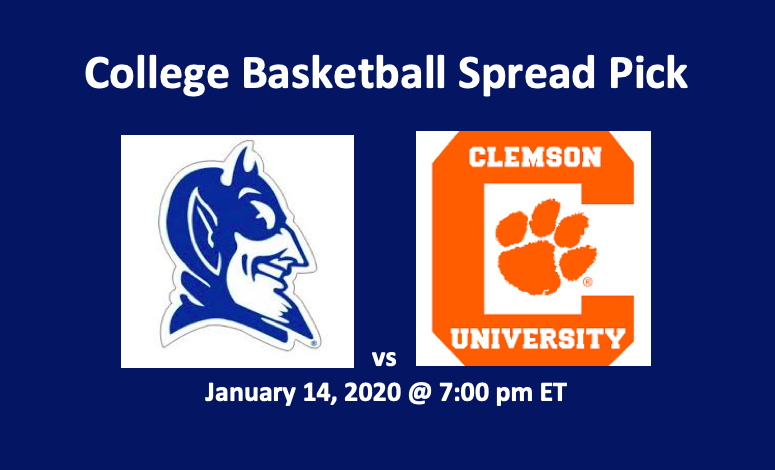 This Duke vs Clemson pick has the Blue Devils at -11.0. This ACC Duke vs Clemson prediction notes that the #3 Blue Devils (15-1 Overall, 5-0 ACC) are, thus far, perfect in the conference. However, the Clemson Tigers (8-7 Overall, 2-3 ACC) are far from perfect. They are tied for eighth with four other teams in the ACC. The first-place Duke Blue Devils are one game in front of the #9 Florida State Seminoles and #11 Louisville Cardinals. These two teams will tip off on Tuesday, January 14, 2020 at 7:00 pm ET. The game will be played at Littlejohn Coliseum in Clemson, SC.
Duke vs Clemson Pick – Recent Performance
The Blue Devils started the season with six straight wins, including a home opener where they beat #3 Kansas 68-66. Their one and only loss thus far was 85-83 to unranked Stephen F. Austin in OT. Since that loss, Duke has run off 11 more victories, which included an 87-75 win over #11 Michigan State on December 3. They played on January 11, beating Wake Forest 90-59.
The Tigers started their season with a 60-67 loss to Virginia Tech. After that, Clemson won five in a row. That final win in the string was 62-60 in OT against TCU. Their winning streak came to an end when they met #21 Colorado. The Buffaloes beat the Tigers 71-67. That started a four-game losing streak for Clemson. They ended the losing streak on December 20 with a 68-39 drubbing of Jacksonville. After that win, the Tigers played four more games, going two-and-two. They last played on January 11, beating the UNC Tar Heels 79-76 in OT.
Team Stats
If stats are facts, the Duke Blue Devils should dominate the Clemson Tigers. The Blue Devils are averaging 83.8 PPG and holding opponents to 62.3 PPG. They're hitting 48.9% of their shots. The Tigers are putting up 68.7 PPG and shooting 42.4% from the floor. On defense, they are allowing opponents 63.7 PPG. Concerning threes, Duke is completing 36.7% of their attempts and Clemson is hitting 32.2%. Our Duke vs Clemson pick notes that the Tigers top the Blue Devils in one area, foul shots. Clemson is completing 71.2% of their frees while Duke is good on 67.4%
The Blue Devils are bringing down 40.9 RPG, while the Tigers are grabbing 34.3 RPG. Duke is averaging 16.9 APG, 6.7 BPG, and 9.3 SPG. Clemson is dishing off 13.1 APG, making 2.3 BPG, and making 7.5 SPG.
DU and CU Players
Freshman center Vernon Carey Jr. leads the team with 16.4 PPG, 8.6 RPG, and 1.9 BPG. Plus, he's hitting 60.8% of his field goals and 57.1% of his threes. In scoring, three other players are averaging double digits. All are shooting 45% or better from the floor and 36% of better from downtown. Guards Tre Jones and Cassius Stanley are putting in 14.9 and 11.5 PPG respectively. Also, Jones is averaging 7.0 APG and he and Stanley are combing for eight rebounds per game. Three other Duke players are combining for 19.5 PPG.
Clemson will rely in forward Aamir Simms and guard Tevin Mack to set the pace. Simms tops the team in points with 13.9 PPG and 7.5 RPG. Mack is averaging 11.5 PPG and 5.1 RPG. Simms is hitting 46.1% of his shots and Mack 44.7% of his field goals. Guards John Newman III and Al-Amir Dawes are scoring 9.9 and 9.1 PPG respectively.
Our Duke vs Clemson Pick
Our Duke vs Clemson pick notes that if the Blue Devils go to Clemson and play their game, they should beat the Tigers easily. Duke has been playing at a high level. In seven of Duke's last nine games, they have won by 12 or more points. The other two games were won by 10 and nine points. Our pick is the Duke Blue Devils at -11.0.
#3 Duke Blue Devils vs Clemson Tigers Prediction – Summary
#3 Duke Blue Devils at -11.0