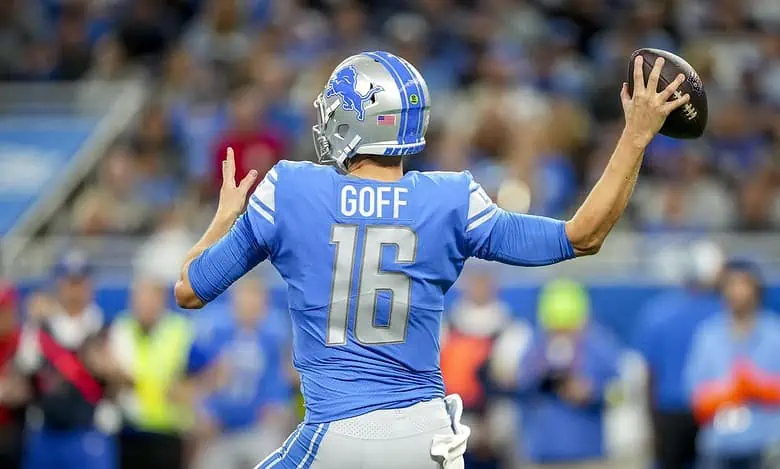 Week 4 of the NFL season is going to begin with a bang as the Green Bay Packers are set to host the Detroit Lions on Thursday Night Football. This is one of the oldest rivalries in the NFL, and first place in the NFC North will be on the line in this game.
Detroit comes into this game with an overall record of 2-1, and they remain the betting favorite to win the NFC North Division. The Lions started to turn around their fortunes a season ago, and now they are looking to take the next step and become a contender.
Green Bay comes into this game with a record of 2-1 as well, and the Packers are trying to make a return to the playoffs. The Packers just picked up a huge comeback win against the New Orleans Saints, and that will give them momentum in this game.
The Lions are slim 1.5-point betting favorites on the road in Green Bay, and that spread suggests that this will be a great battle.
Lions Leaning on Goff
Detroit Lions quarterback Jared Goff has thrown for 819 yards and five touchdowns this season, and he has had the ball in his hands a ton. This is a change in strategy from what Detroit did a season ago, but Goff has been good this season.
The Lions are averaging 111 rushing yards per game as well, and finding some offensive balance is going to be a big key in this game. Detroit can't expect to throw their way to a win in this game, as the Packers are actually solid on defense.
Detroit head coach Dan Campbell wants to have a dominant defense, and they are allowing just 72 rushing yards per game. It's going to take a great defensive effort in this one if they are going to move to 3-1.
Packers Can Defend
The Green Bay Packers are allowing 355 yards per game this season, but they have the ability to be better than that. This team is getting some key defensive players back as well, and shutting down the Lions is going to be a big part of this matchup.
Quarterback Jordan Love came into the season without many expectations, but he has been better than most thought. Love has thrown for just 655 yards through three games, but he has seven touchdown passes to just one interceptions.
Running back Aaron Jones should be back in action this weekend, and he is one of the best players in the game. Green Bay is going to find the end zone a few times in this one, and the defense will get a boost from that.
Packers Pick Up Big Win
Detroit is coming into this game wanting to win on defense, but that's not going to be easy to do against the Packers. The Lions have shown the ability to throw the football deep, but they have also made way too many mistakes this season.
Jordan Love looks to be the answer at quarterback for the Packers, and they are set to get some players back into the lineup for this game. Don't expect the Packers to light up the scoreboard in this game, but they are going to score some points.
The best bet to make in this game is to take the Green Bay Packers on the moneyline as they are going to find a way to win a big game against the Detroit Lions.