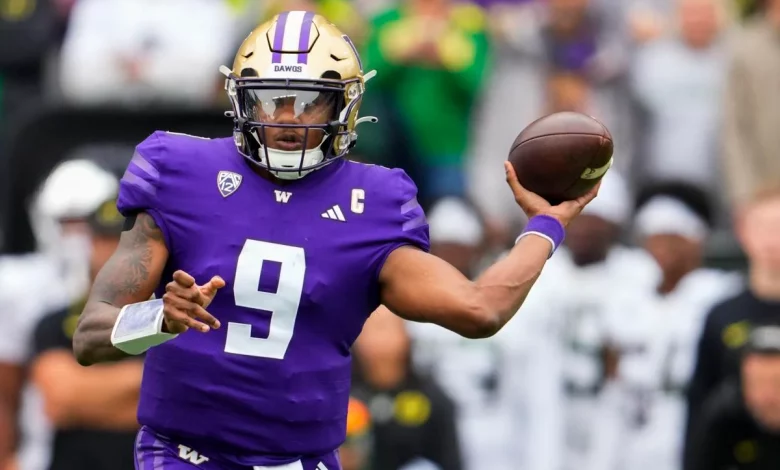 The race to the Pac-12 Championship Game continues to heat up, and there is a big game on Saturday night that will impact the race. There is a Top 25 matchup set to take place on Saturday as the Washington Huskies will visit the USC Trojans.
Washington comes into this game with a perfect record of 8-0 and they are currently the 5th ranked team in the most recent poll. The Huskies have a huge edge in the Pac-12 race at this time, but they can't afford to suffer a loss. 
USC comes into this game with a record of 7-2, and they haven't been playing their best football of late. The Trojans were able to snap a two-game losing streak with a 50-49 comeback win over California last weekend. 
The Washington Huskies are three-point betting favorites on the road at USC on Saturday night in the Pac-12.
Huskies Scoring Some Points
The Washington Huskies are typically a team that wants to win games by playing defense, but they are doing it a different way this season. Washington is one of the best offensive teams in the country, and they are led by quarterback Michael Penix Jr. 
Penix is currently the betting favorite to win the Heisman Trophy and he has thrown for 2,945 yards and 24 touchdowns this season. Wide receiver Rome Odunze has been the top target for Penix this season as he has 51 receptions for 907 yards this season. 
The Huskies might not be a shutdown defense this season, but they do have the ability to put some pressure on the quarterback. Washington will look to pressure Caleb Williams a ton in this game. 
Trojans Can't Get Stops
The USC Trojans have been playing in a ton of high-scoring games this season, and it's because the defense simply can't get any stops. USC has allowed at least 34 points in five straight games, and that's just not good enough to get it done. 
This secondary is going to be tested in a major way in this game, and that unit hasn't played well all season. USC has been able to stay in games with the strength of that offense, and they will be looking to score in this one. 
Quarterback Caleb Williams has thrown for 2,646 yards and 25 yards this season, and he can also make plays with his legs. Williams won the Heisman Trophy last season and he will try to put his team on his back in this game. 
Huskies Survive in Shootout
These are two of the best offensive teams in college football and each team is led by a future NFL quarterback. You should expect a ton of points in this game, and both teams will be throwing the ball deep in this game. 
USC is going to put up some points in this game, but that defense just continues to be a disaster this season. The Trojans are going to struggle to slow down Washington at all in this game, and eventually the Huskies are going to take advantage. 
Bet the Washington Huskies -3.0 as they pick up another impressive win over the USC Trojans on Saturday night.