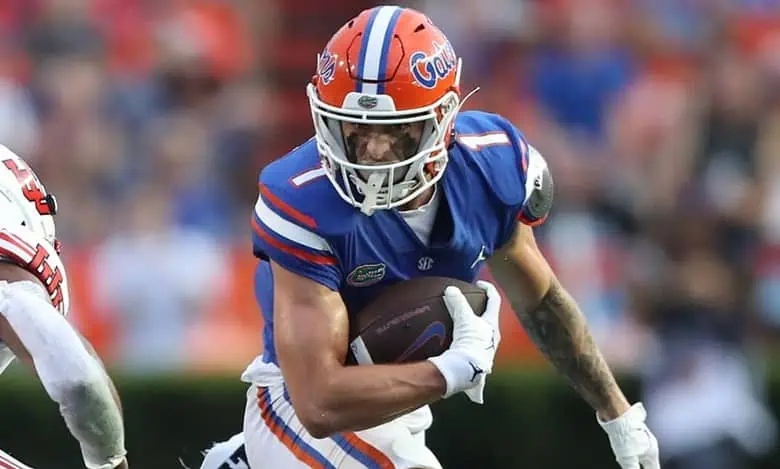 Tennessee Volunteers vs. Florida Gators Pick
This is an interesting weekend of college football as there aren't any games on the schedule that feature a pair of ranked teams. That doesn't mean that there aren't some great games set to take place, and that list includes the Florida Gators hosting the Tennessee Volunteers.
Tennessee comes into this game as the 11th ranked team in the country, and they are hoping to challenge for the SEC East Division title this season. The Volunteers have stormed out to a perfect 2-0 record so far this season, but this will be their toughest test of the year.
Florida is just 1-1 on the young season after suffering a 24-11 loss to the Utah Utes in the season opener. The Gators are looking for a signature win to get their season going, and beating Tennessee on Saturday would qualify as that type of win.
Tennessee is coming into this game as a six-point betting favorite over Florida on Saturday night.
Volunteers Are Explosive
Tennessee comes into this game averaging right around 40 points per game, and they have a ton of balance on offense. The Volunteers are averaging 257.5 yards per game on the ground, but they can also beat teams through the air.
Quarterback Joe Milton III came to Tennessee from Michigan, and he has thrown for 429 yards and four touchdowns this season. He also has the ability to beat teams with his legs, and running back Jaylen Wright is having a monster season as well.
The defense for Tennessee has been good enough so far this season, but they haven't been playing great competition. Tennessee will have to stop the run in this game, and the defensive line has to stand tall.
Gators Must Get Tough on Defense
Florida has allowed just 31 total points this season, and that defense has proven that it can completely shut down an opponent. The Gators are holding other teams to just 75.5 yards per game on the ground, and that will be a key in this matchup as well.
Playing in "The Swamp" should provide that defense a huge advantage as well, and they will be aggressive in coming after the Volunteers. While most are looking at Tennessee as the team with the better offense in this matchup, Florida can put up points as well.
Quarterback Graham Mertz has thrown for 526 yards and two touchdowns this season, and is going to need to be sharp in this game. The Gators will try to run the football to slow down the tempo a bit, but they will really need to hit on some big plays.
Tennessee Passes Tough Test in Florida
Playing at home is going to give Florida a pretty big advantage in this game, but it's going to take more than that if they are going to pull off the upset. Florida still has to prove that it can score against top teams, and that's just not going to happen enough in this one.
Tennessee quarterback Joe Milton III is having a huge season for the Volunteers and he should put up some big numbers in this game. The Volunteers are going to play extremely fast in this one, and that will allow them to pull away from Florida in the second half.
Bet the Tennessee Volunteers -6.0 as they get off to a great start and then cruise to a big win over the Florida Gators in this rivalry game.