College Football
NCAA Football Showdown: Oklahoma State Cowboys vs Oklahoma Sooners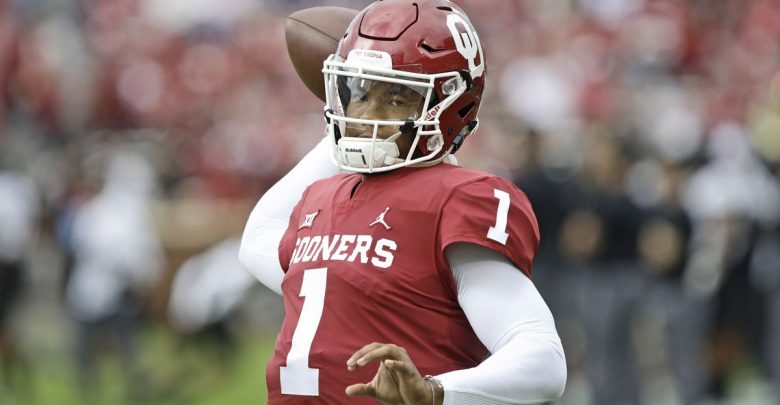 This week's college football schedule features the Bedlam rivalry between the no. 6 Oklahoma Sooners and Oklahoma State Cowboys. The Sooners, winners of 13 of the last 15 games in this series, are 20.5-point favorites in this game, which also has an over/under of 79 points.
For Oklahoma, their Big 12 title hopes and College Football Playoff hopes are on the line every time they play. The Sooners are 8-1, but one loss will take away any hope they have of returning to the CFP. A second loss in conference play could also end up costing them a spot in the Big 12 title game, especially with a showdown against West Virginia lurking at the end of the month.
Oklahoma State, on the other hand, is just trying to qualify for a bowl game. the Cowboys couldn't secure bowl eligibility last week when they gave up a late lead against Baylor. With tough games against West Virginia and TCU still on their schedule, Oklahoma State is running out of time to get their sixth win, giving them a little extra desperation and incentive when they take the field against Oklahoma on Saturday.
No Defense
For Oklahoma State, playing defense has been optional for most of the season. In their six conference games, the Cowboys are giving up an average of 36 points. Keep in mind that they have yet to play the two best teams in the league in Oklahoma and West Virginia, so that's 36 points per game against middle-of-the-pack and low-level Big 12 teams.
Needless to say, that's just not going to fly against the Sooners. Under Kyler Murray, the OU offense may be even more explosive than it was last season with Baker Mayfield. Murray and running back Trey Sermon keep them surprisingly balanced between the run and the pass, making their speedy receivers all the more dangerous on deep throws. The Sooners have scored over 50 points in three consecutive games and have scored at least 45 points in seven of their nine games.
Try to Keep Up
Needless to say, the Cowboys are going to have to score on nearly every possession if they want to keep pace with Oklahoma all game. Given the struggles of the OU defense this year, that's not entirely impossible. The Sooners have been lit up at times by teams with talented offensive players, and the Cowboys would seem to fit that description.
However, the Cowboys have had their ups and downs this season. Quarterback Taylor Cornelius has had a few bad days during Big 12 play, and that's not something that Oklahoma State will be able to overcome against their in-state rivals. To be fair, Cornelius was on point a couple of weeks ago when the Cowboys upset Texas. He'll have to replicate that performance to give OSU a chance, but this time he'll have to do it on the road.
Run Away
Like most of Oklahoma's games, this game is bound to turn into a runaway. Half of their Big 12 games have been won by more than 21 points. Since Oklahoma State isn't one of the top teams in the conference or a team with the defensive talent to slow down the Sooners, it's only a matter of time until Oklahoma pulls away. Bet on Oklahoma covering the 20.5-point spread.