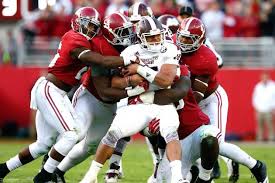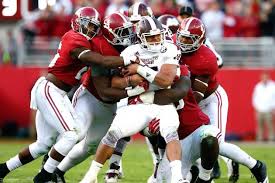 Our first free college football pick for today has Kent State playing Alabama. The Crimson Tide (3-0) is number one in the nation and favored by 42.5 points. The over/under is 49.5. The question, of course, isn't will Alabama win; it is by how much? Should you take the Tide at 42.5? Are you better off going with the over/under? In creating our free college football pick, we've taken the time to crunch the numbers and take into consideration some key factors for this game. One thing we know for sure is that Kent State (1-2) will have their hands full with Alabama.
Alabama Offense vs. Golden Flashes Defense
With Kent State playing Alabama, you have to ask a few questions. The primary one is can the defense of the Golden Flashes in any manner stop the Crimson Tide offense? Although freshman QB Jalen Hurts suffered a minor wrist injury last week, he's listed as probable. If he does not play, then freshman QB Blake Barnett will be ready to go. Both are major threats. The Alabama offense brings it on both the ground and through the air. Although top receiver ArDarius Stewart will not play today due to injury, the Alabama receiving corps is deep. In addition, their rush attack is massive.
Can Kent State stop Alabama? The Golden Flashes gave up to 33 points to Penn State and 39 to North Carolina A&T. It's hard to believe that they will in any manner be able to permeate the massive and accomplished Alabama O-line. We expect that Alabama will run through Kent State's defense and with their air game dominate their secondary.
Kent State Offense vs. Crimson Tide D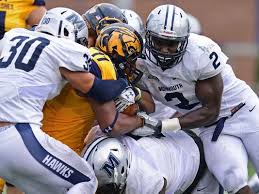 Like Alabama, Kent State has two freshman quarterbacks. But the comparison stops there. We expect Mylik Mitchell to start, and although he has performed well, tossing five touchdown passes and one interception while completing almost 60% of his passes, he's already been sacked nine times. To be successful, Mitchell will nee to connect with WR Nick Holley (12 REC, 11o YDs, 9.2 AVG, 2 TDs). The team also needs freshman RB Justin Rankin (38 ATT, 178 YDs, 4.7 AVG, 1 TD) to eat up some ground.
The Alabama defense has accumulated 10 sacks, 18 PD, and three interceptions. Two of those INTs were run back for touchdowns. The Crimson Tide D is big, fast, and deep. They should be able to easily control and wear down the Kent State frontline. We expect them to create numerous turnovers today and score a few TDs.
Pick for Kent State Playing Alabama
Under coach Nick Saban, the Tide is 14-1 against MAC teams. Kent State is Saban's alma mater, but we do not expect him to have any mercy. Look for the Crimson Tide to beat the Golden Flashes. Take Alabama at home at -42.5.
Our Free Pick for Kent State Playing Alabama: Crimson Tide at -42.5