College Football
Boston College Eagles vs. Syracuse Orange Betting Preview for 11/3/2023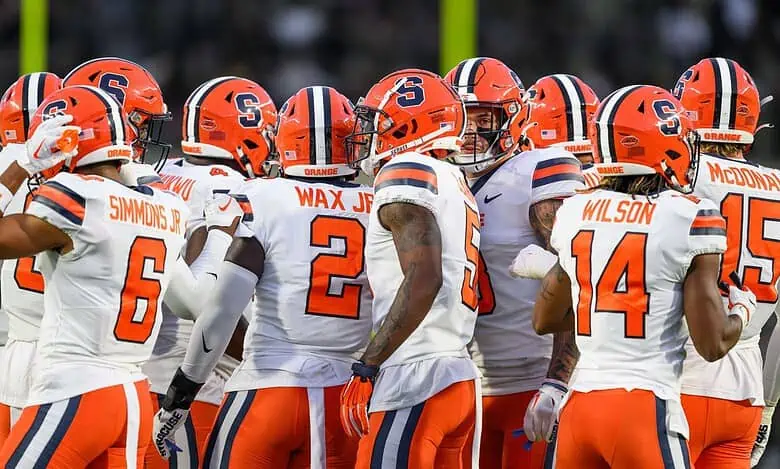 The Atlantic Coast Conference (ACC) is no longer waiting until the weekend to play football as there is a big game on Friday night. The Boston College Eagles will visit the Syracuse Orange, and this is a terrific rivalry game in that conference. 
Boston College comes into this game with a ton of momentum as they have rattled off four straight victories. The Eagles have improved to 5-3 on the year, and they are suddenly back in the conference championship race heading into Week 10.
Syracuse is heading in the opposite direction as they have now lost four straight games, all to conference opponents. The Orange did not win a game during the month of October, and they are hoping that November goes better for them. 
The Syracuse Orange are three-point betting favorites over the Boston College Eagles in this ACC showdown. 
Boston College Rolling on Offense
The Boston College Eagles come into this game with a ton of momentum on offense as they have scored at least 21 points in four straight games. Boston College has actually been great on offense all season long, but they have recently started to break through. 
Quarterback Thomas Castellanos has thrown for 1,549 yards and 11 touchdowns this season, but he has also thrown seven interceptions. Boston College wants to throw the football, and that will be a key in this game. 
There are still some concerns about the defense for Boston College, and that is going to be something to watch in this game. Boston College can't forget to play some defense, especially against a team like Syracuse. 
Orange Need to Score
The Syracuse Orange have been abysmal on offense of late, and that needs to change in a big way for this team. Syracuse has scored 14 or less in four straight games, and that just won't allow this team to pick up a win. 
Garrett Shrader got off to a huge start to the season, but he has really been struggling to throw the ball with accuracy of late. Shrader does have the key to be a leader on this team, and he will be trying to make some big plays in this game. 
The defense for Syracuse has been making plays of late, and that unit is good enough to keep this team in the game. If Syracuse keeps from giving up some big plays then the defense should help the offense succeed. 
Syracuse Snaps Losing Skid
This is a matchup of two teams heading in opposite directions, but that doesn't necessarily matter once the ball is kicked off. The Eagles have taken advantage of a favorable schedule of late, and they are going to run into a hungry team in this game. 
Syracuse just hasn't been able to do anything on offense during this losing streak, but they are still an extremely talented team. The Orange should have a big performance in this game, and they will eventually begin to pull away. 
This is going to be a great game, but taking the Syracuse Orange -3.0 is the best bet to make in this one.