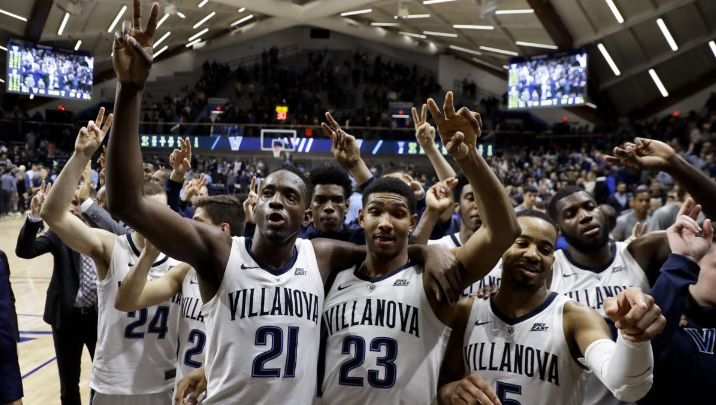 The no. 13 Villanova Wildcats will look to maintain their spot atop the Big East standings Wednesday night when they host the Providence Friars. After beating Providence 65-59 on the road earlier this year, the Wildcats are favored by 11 points.
Providence needs to turn things around quickly just to get onto the NCAA Tournament radar. Despite some solid wins during the non-conference season, the Friars are just 4-7 since the start of conference play, dropping them to 14-10 overall. They have a somewhat manageable schedule down the stretch, but Ed Cooley's team needs to start stringing wins together now.
Meanwhile, Villanova is looking to bounce back from their first conference loss of the season last time out against Marquette. The Wildcats had won 11 straight games prior to that, although they were left off of the NCAA's list of the top-16 teams that was released last weekend. Nevertheless, Jay Wright's team is in a position to grab a high seed in March if they can get back on track right away.
Star Seniors
As usual, the Wildcats have veteran players leading the way. Seniors Phil Booth and Eric Paschall are combining for over 35 points per game, accounting for nearly half of Villanova's scoring. Both are solid outside shooters, but Booth also leads Villanova in assists while Paschall is a consistent rebounder and frequently gets to the free-throw line, as both find a variety of ways to help the Wildcats win games.
The key for Villanova, however, is how much they get from their younger players. Sophomore Collin Gillespie averages close to 12 points per game, but the Wildcats couldn't overcome an off night from him against Marquette when he contributed just five points. Outside of Saddiq Bey, Villanova isn't getting consistent production from their highly-rated freshmen, which can make them a little too reliant on Booth and Paschall to carry the team.
A Little Help
Providence has a bonafide Big East star in Alpha Diallo, who plays nearly every minute and scores 17 points per game. However, the junior doesn't get enough help from his teammates. Freshman A.J. Reeves is the team's second-leading scorer at 11 points per game. However, he's scored a total of 13 points in his last four games, going cold since returning from a foot injury. Sophomore center Nate Watson has also been inconsistent with his contributions. Providence is 3-2 in Big East play when he scores double figures but 1-5 when he doesn't.
The Friars also have a profound lack of size in their rotation outside of Watson. In fact, the 6'7'' Diallo is also the team's top rebounder. Of course, he doesn't get enough help in that area either, leaving Providence vulnerable to getting beat up on the boards. If the Friars can't at least make the rebounding battle close, they don't have enough consistent scorers to keep pace with a team like Villanova for 40 minutes.
Just Close Enough
While Villanova is 19-5, they've rarely won going away in Big East play. While Providence will need everything to go perfectly to win this game, the Wildcats are a little too inconsistent outside of Booth and Paschall to bank on this being a one-sided affair. Bet on Providence beating the 11-point spread, even if Villanova wins the game.