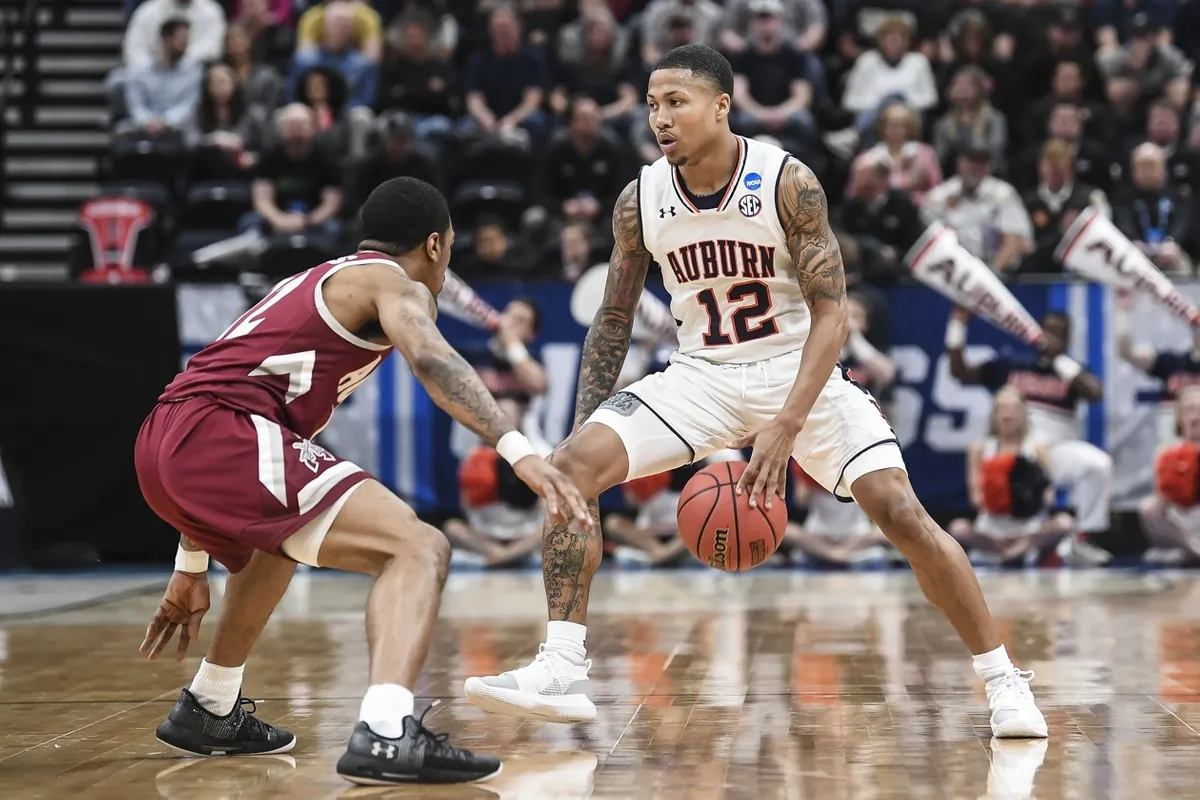 Two teams with very different experiences in the first round of the tournament will face off in the Round of 32 as the 4 seed Kansas Jayhawks play the 5 seed Auburn Tigers. Despite being the lower seed, Auburn is set as a 2-point favorite.
Some saw Kansas as a potential upset victim, but nothing could be further from the truth. The Jayhawks cruised past 13 seed Northeastern 87-53. The result of the game was never in doubt as Kansas shot 56% from the field while holding Northeastern to 28% shooting. The Jayhawks were also +18 in rebounding in their tournament debut.
Auburn, meanwhile, was fortunate to survive their first-round meeting with New Mexico State. On the feels of winning the SEC Tournament, the Tigers failed to pull away from the Aggies. Bruce Pearl's team made some truly bone-headed fouls in the final minutes of the game, nearly handing the win to New Mexico State. Alas, the Tigers found a way to survive and advance.
Stars Arise
If the Tigers are going to put Thursday's near-disaster behind them and stay alive, they'll need to get star efforts from leading scorers Bryce Brown and Jared Harper. Brown had a solid game against New Mexico State, but he was far from his best. Harper, meanwhile, had a great shooting performance but also fouled out, nearly costing the Tigers. Auburn was saved, in part, by a good effort from third-leading scorer Chuma Okeke and a surprising 16-point performance from J'Von McCormick.
Against Kansas, the Tigers will have to lean on Brown and Harper to be at their best, as Okeke and McCormick may not show up like that. Auburn will also have to fix their issues on the boards. Auburn was out-rebounded by 15 against New Mexico State. They probably won't survive a similar margin against Kansas. The key is center Austin Wiley, who is working his way back from injury. He played 11 minutes on Thursday, the most he's played in over a month. His size could be vital for the Tigers on Saturday.
Youth Looks Ready
The Jayhawks are relying on a lot of young players to provide support for star Dedric Lawson, and those youngsters looked ready for the big stage against Northeastern. Devon Dotson scored 18 points despite going 1 for 5 from the perimeter. Ochai Agbaji also chipped in 13 points, which was his highest point total in over a month.
On the other hand, facing Auburn's defense will be a lot more difficult than facing Northeastern. More importantly, the Jayhawks didn't get much from freshmen starters Quentin Grimes and David McCormack. Even if Lawson brings his best effort, he still needs at least two or three of the Kansas freshmen to have a good game if the Jayhawks expect to beat a quality team.
Lesson Learned
Auburn is no doubt breathing a sigh of relief after Thursday's game. But a close call will also get their attention and help the Tigers refocus. Look for Auburn to step up the defensive pressure and slow down some of the Kansas freshmen, which will help them survive getting hurt by Lawson inside. This should be a close and competitive game, but bet on Auburn to ultimately win and cover the 2-point spread.