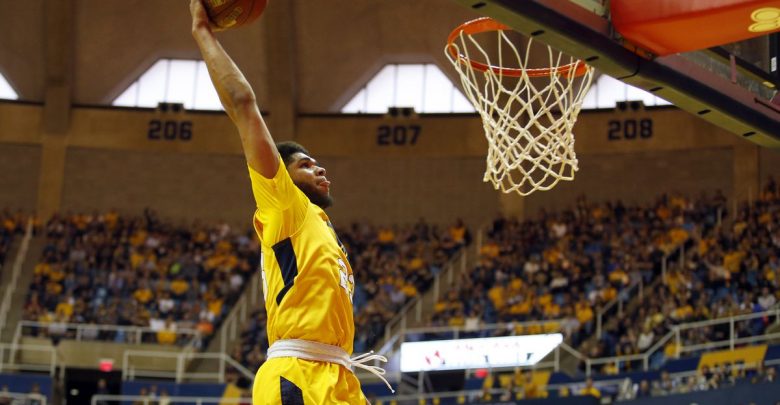 A pair of power-five conference teams will meet up on Tuesday night in the Jimmy V Classic at Madison Square Garden. The West Virginia Mountaineers out of the Big 12 Conference will take on the Florida Gators, who hail from the SEC. Both the Mountaineers and Gators have spent plenty of time in the AP polls in recent years, but the two teams are unranked at this point.
West Virginia has won four straight games leading up to this battle with the Gators. The Mountaineers suffered two stunning early season losses to Western Kentucky and Buffalo. Florida brings a 4-3 record into this contest, but they have faced some tough teams already this season. Their season began with a blowout loss to in-state rival, Florida State. The Gators are 1.5 point favorites over West Virginia in this game.
Mountaineers Can Score Points
West Virginia might be off to a slow start to the season overall, but their offense remains explosive. The Mountaineers are averaging 86.4 points per game, which is one of the top-20 scoring averages in college basketball. West Virginia has been terrific on the glass this season, averaging 42.3 rebounds per game. The Mountaineers must use their physicality to give them an edge in this matchup.
Esa Ahmad and Sagaba Konate have been the two stars for the Mountaineers this season. Ahmad is leading the team with 16.6 points per game and is shooting 50 percent from the floor. Konate is the best down low for West Virginia, averaging 14.8 points and 8.6 rebounds per game. West Virginia will look to get out in transition to try to get easy buckets in this game.
Gators Looking For Hero To Emerge
The Florida Gators don't seem to have a true star this season. Deaundrae Ballard is the only Florida player that is averaging double figures, coming into this game with a 10.9 scoring average. The Gators have been getting contributions from many different players this season, but they need to have a go-to scorer when things get tight. Noah Locke scored a career-high 18 points in the Gators last game and will look to stay hot against the Mountaineers.
Defense has definitely been the strength of the Florida team this season. The Gators are giving up just 62.4 points per game, despite already playing four games against teams from power conferences. Florida is averaging over nine steals per game, with KeVaughn Allen posting a 2.1 steals per game average. The Gators will be undersized in this game, but they could shut the Mountaineers down.
West Virginia Shines at the Garden
Both the Mountaineers and Gators could use a high profile victory on their resume this season. The two teams play a very different style of basketball, and the game will likely be decided by which team controls tempo. West Virginia will look to get this game into a fast-paced style, while the Gators will rely on their defense. Look for the Mountaineers to impose their will on the Gators and get a big win at Madison Square Garden. Bet West Virginia +1.5 to win the game outright over the Florida Gators.