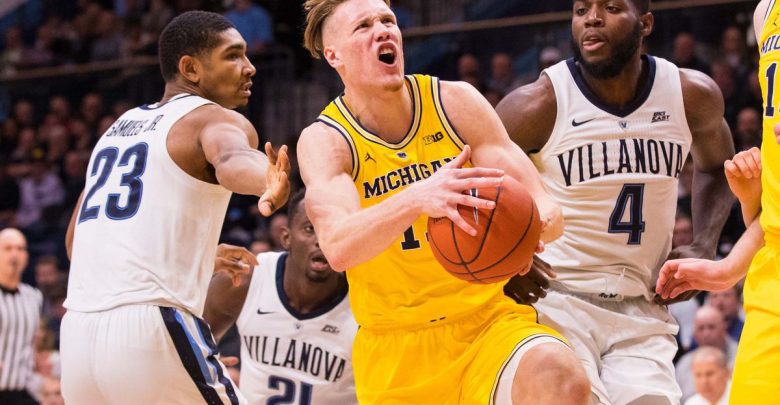 The 5th ranked Michigan Wolverines will hit the road on Friday night to take on Big Ten rival Indiana Hoosiers. These two teams have been going in opposite directions. Michigan bounced back after their first loss of the season with a win their last time out and have earned an 18-1 record to this point in the season. On the other hand, Indiana is 12-7 but is reeling with 5 straight losses.
Michigan Coming Off Low-Scoring Win
Michigan is coming off a 59-57 win over Minnesota on Tuesday. The Wolverines almost blew a 10-point lead with 4 minutes left but were saved at the buzzer by Charles Matthews. Freshman Ignas Brazdeikis has been incredible all season long and led the Wolverines in scoring with 18 points. Brazdeikis shot just 4 of 18 from the field and was held scoreless in their loss to Wisconsin so he will look to turn it around against the Hoosiers. Brazdeikes also earned his second double-double of the year with 11 boards which was a team high. Jon Teske was the only other Wolverine in double figures with 15 points on 7 of 8 shooting. Michigan got minimal production from their bench which scored just 10 points.
Indiana is coming off a 73-66 defeat at Northwestern on Tuesday. Indiana was never really in this ballgame and trailed by double digits for the majority of the second half. The Hoosiers had 5 players score in double figures but only had one other player in the scoring column with 2 points. Juwan Morgan was the leading scorer with 18 points. He also tallied 11 rebounds to record his 3rd double-double of the season. Freshman sensation Romeo Langford scored just 12 points in this one. Rob Phinisee, Aljami Durham, and Justin Smith combined for 34 points. Smith has also pounded the glass and led the team with 12 boards to earn his first double-double of the year.
Young Players Lead the Way
Michigan is led by the freshman Brazdeikis in the scoring column. He pours in 14.9 points a game and Charles Matthews scores 13.3 a game to follow him. Jordan Poole adds 12.9 per contest. Big man Jon Teske leads the Wolverines in rebounds with 6.6 a game. Poole is also the top assister on the Wolverines with 2.2 helpers a game. Michigan has gotten it done on the defensive end of the floor this season as they are holding opponents to just 57.1 points a game. The offense has also been solid as they are putting up 71.8 points per contest but are shooting the ball at just a 46% clip.
Indiana is also led by their superstar freshman Langford. Langford is scoring 17.6 a game. There isn't much other offensive production outside of Langford and Morgan, who is averaging 16.5 a game. Other players will have to step up in this game for the Hoosiers to have a chance. Morgan also leads the team in rebounding with 7.9 a game. The Hoosiers will be without suspended Devonte Green, who leads the team in assists with 3.2 a game. Indiana has shot the ball extremely well this season at 49.8% and has been able to score 74.2 points a game. However, they are allowing opponents to put up 66.2 points a game.
Michigan vs. Indiana Prediction
Michigan comes in at -3.5. The Wolverines stellar defense will be able to stop the two-headed monster of Langford and Morgan and will force Indiana to rely on their role players for points. Michigan is loaded on offense and will be too much for the Hoosiers to defend, especially since their defense has not been great this year. Michigan will hold the lead for most of the game and win this one easily by double digits. Take Michigan -3.5.