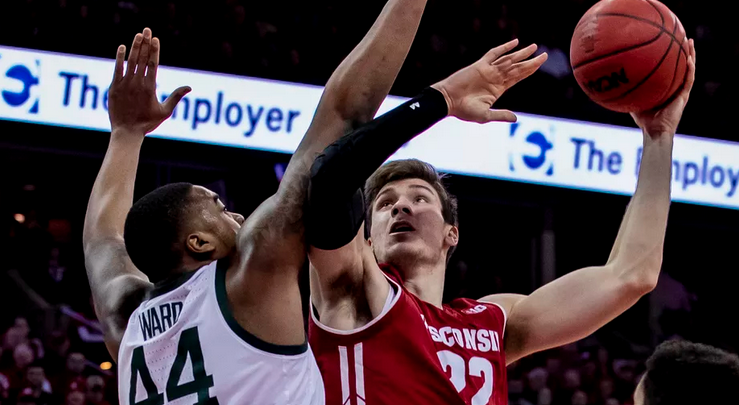 The Wisconsin Badgers have will be looking to snap a two game losing streak when they host the Illinois Fighting Illini on Monday night. Wisconsin earned a 72-60 victory at Illinois earlier this season, but the Fighting Illini have been playing great in the month of February. The Badgers still have a shot to get back into the Big Ten race, but they must hold serve at home in this game.
Wisconsin brings a 17-8 overall record into this game, and they have gone 9-5 so far in Big Ten Conference play. The Badgers don't score a ton of points, but they are tough to beat at home. Illinois has won four straight Big Ten games to improve their record to 6-8 in conference. The Fighting Illini are just 10-15 overall, but are improving quickly. Wisconsin is an 11.5 point favorite in this game.
Happ Doing it All For Wisconsin
Wisconsin forward Ethan Happ is one of the best players in the country, and he does a little bit of everything for the Badgers. Happ leads the team with 18.4 points, 10.5 rebounds, and 4.8 assists per game in his final season in Madison. Opposing teams have tried everything imaginable to stop Happ, but he always seems to have an answer. If Wisconsin makes a deep run in March, it will be Happ that is leading them.
The Badgers want to slow this game down, and get the game played at their pace. Wisconsin averages just 70 points per game this season, but they are one of the best defensive teams in the country. The Badgers allow opponents to score just 60 points per game, which is the tenth best defensive average among division 1 teams. Getting Illinois to play slow will be a challenge, but it's the only way Wisconsin can win.
Pair of Freshmen Leading Illini Run
Illinois has made great strides as a team since the season began, but a pair of freshmen have made the biggest jump. Ayo Dosunmu and Giorgi Bezhanishvili have combined to score close to 26 points per game this season, but they have been carrying the team of late. Dosunmu and Bezhanishvili give the Illini a terrific inside-outside combination that can keep the team in this game.
Head coach Brad Underwood wants his team to play extremely fast and aggressive on both ends of the floor. The Illini lead the Big Ten with 17 turnovers forced per game, and they will turn up the heat in this game. Illinois gives up close to 75 points per game this season, but they also create easy scoring opportunities for themselves. Speeding up Wisconsin is a tall task, but Illinois will do their best on Monday night.
Illinois Covers, Wisconsin Wins
Wisconsin has absolutely owned Illinois in recent seasons, but the Fighting Illini are coming fast. The Illini have been playing everyone tough of late, and they will battle the Badgers in this game. Wisconsin should have enough talent to win this game, but 11.5 points is a ton. Take the points and bet on Illinois in this game.