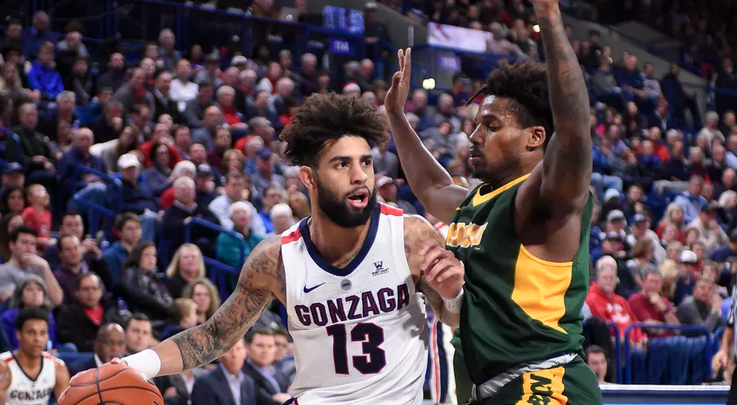 The Gonzaga Bulldogs will look to extend their winning streak to 16 games Saturday night when they visit the San Diego Toreros. After beating San Diego by 16 points earlier this year, the Bulldogs are favored by 16 points.
The Toreros scored a few impressive wins during the non-conference portion of their schedule. However, they've struggled to find consistency since the start of the WCC schedule. They are currently 5-6 in league play and 16-10 overall after losing three of their last four. San Diego's only hope of reaching the NCAA Tournament is likely in winning the WCC Tournament.
Meanwhile, the Zags are in line to claim a no. 1 seed in The Big Dance if they can avoid any major slip-ups late in the season. Gonzaga's smallest margin of victory in their 11 conference wins is 13 points, with seven of those 11 wins coming by at least 30 points. The Bulldogs have even managed to blow out the likes of BYU and San Francisco, who are the next best teams in the WCC.
Missing Pieces
The Zags have rarely been at full strength this season, and yet they continue to dominate opponents. Forward Killian Tillie, who was massive last season, is once again sidelined and is expected to miss the rest of the regular season. However, the Bulldogs have more than enough frontcourt depth to make up for his absence. Forwards Rui Hachimura and Brandon Clarke are the team's leading scorers, combining for 37 points per game. Younger forwards Filip Petrusev and Corey Kispert have also made an impact while helping fill the void left by Tillie.
Of course, Gonzaga's backcourt is no joke either. Point guard Josh Perkins doesn't even need to score to make an impact in games. He's averaging over seven assists per game over his last seven games. Meanwhile, Zach Norvell Jr. continues to be the team's best outside shooter. He made five of his seven 3-point attempts and scored 21 points during Gonzaga's first meeting with San Diego and has been playing at a high level throughout the WCC season.
Turnover Trouble
Turnovers have been a major cause in San Diego's struggles during conference play. In a 6-point overtime loss to BYU earlier this week, the Toreros turned it over 18 times to BYU's seven turnovers. It was a similar story when they lost to Gonzaga earlier this year. Isaiah Pineiro lit up the Bulldogs for 30 points, but a huge turnover difference kept San Diego from keeping things close.
The silver lining, of course, is that San Diego has some quality scorers who could keep pace with Gonzaga. Pineiro averages 19 points per game while the backcourt tandem Olin Garter and Isaiah Wright combine for nearly 30 points every time out. Tyler Williams is also a dangerous outside shooter if he can get hot from the perimeter. However, the Toreros may need all four to be at the top of their game to have a chance against Gonzaga.
Foot on the Gas
While they are running away with another WCC title, the Bulldogs are not resting on their laurels. Bet on Gonzaga to avoid a possible letdown and cover the 16-point spread against San Diego.