College Basketball Picks
Big 12 Conference Tournament First Round Game 1 Betting Preview: TCU Horned Frogs vs. Oklahoma State Cowboys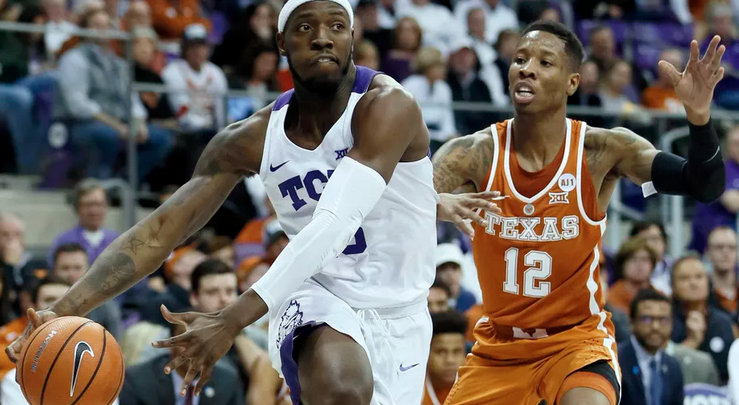 The Big 12 Conference Tournament kicks off on Wednesday night with a pair of first-round games. The TCU Horned Frogs will take on the Oklahoma State Cowboys in a battle of the eighth and ninth place teams. Oklahoma State is hoping to pull off a string of upsets to win the automatic bid, while TCU needs to win this game to keep their dreams of an at-large bid alive.
TCU enters the conference tournament squarely on the bubble, but most people think they are in the field. The Horned Frogs finished just 7-11 in conference play, but have an overall record of 19-12. Oklahoma State went just 5-12 in Big 12 games, and come in with an overall record of just 12-19. The two teams split their regular season matchups. TCU is a 3.5 point favorite in this game.
Cowboys Struggle to Score
The Oklahoma State Cowboys have been known for their offense the last few seasons, but this team doesn't have that same identity. The Cowboys are averaging just 68 points per game this season, but they did put up 85 in their most recent game. Oklahoma State does shoot close to 38 percent from the three-point line, and they have the potential to get hot at any moment.
Oklahoma State has just three players averaging double-figures this season, and they don't have a real go-to scorer on their roster. Forward Cameron McGriff leads the Cowboys with 12.4 points and 7.4 rebounds this season and will need to have a great game against TCU. Guards Lindy Waters III and Thomas Dziagwa are both elite shooters and have combined for more than 22 points this season. The Cowboys have plenty of potential on offense, and maybe their last game will give them confidence.
TCU Has Little Momentum
The TCU Horned Frogs were near the top of the conference for much of the season, but they have been on a long slump. TCU has gone just 2-6 in their last eight games, and are in a must-win situation on Wednesday night. The Horned Frogs are averaging close to 75 points per game this season, but they haven't been making shots of late.
A lot of the responsibilities on offense fall on guard Desmond Bane. Bane put up 34 points in their last game against Texas, and he leads the team with 15.2 points per game. TCU is unlike Oklahoma State in the fact that they have five different players averaging double figures. If Bane is unable to get scoring opportunities in this game, TCU has some other players capable of stepping up.
Horned Frogs Keep NCAA Dreams Alive
There is no doubt that TCU is reeling heading into this tournament, but they still have time to turn their season back around. Oklahoma State just hasn't shown the consistency on offense this season, and that will hurt them in this game. The Horned Frogs are going to find a way to win to keep their NCAA Tournament chances alive. Bet TCU -3.5 over Oklahoma State in this first round Big 12 Tournament game.