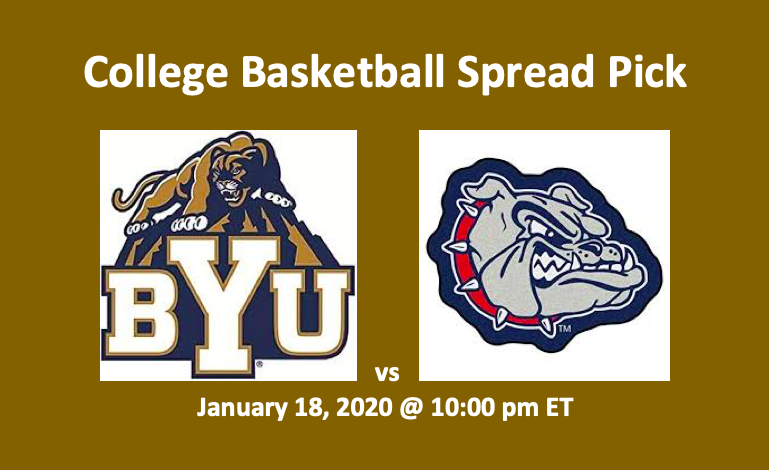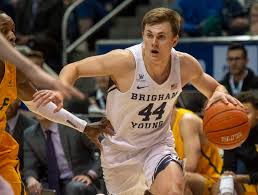 Our BYU vs Gonzaga pick has the #1 Cougars favored by 12 points. This BYU vs Gonzaga prediction notes that the BYU Cougars (14-5 Overall, 3-1 WCC) are tied with the Pacific Tigers for second place in the West Coast Conference. Meanwhile, the #1 Gonzaga Bulldogs (19-1 Overall, 5-0 WCC) are first in the conference and first in the nation. That number one designation means that every men's basketball teams is looking to upset the Bulldogs. Can the Cougars do so? We'll find out starting at 10 pm ET tonight, Saturday, January 18, 2020. The venue will be McCarthey Athletic Center in Spokane, WA.
BYU vs Gonzaga Pick – Recent Performance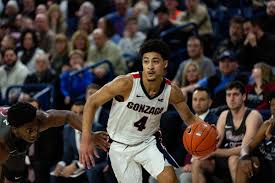 Over their first 10 games, the Cougars sputtered a bit going 6-4. Since December 7, BYU has gone 8-1. That one loss was 87-84 in OT to St. Mary's. This season, the Cougars have played one ranked team. That was #4 Kansas. They met on November 26 with the Jayhawks easily beating BYU 71-56. The Cougars last played on January 16 beating San Diego 93-70.
Gonzaga has played three nationally-ranked teams and beaten each one. The Bulldogs' one loss was on November 29 to unranked Michigan. The Wolverines took the Zags to the woodshed, beating them 82-64. Since that loss, the Bulldogs have put up 11 "W's," which include a 94-50 victory over San Diego and a 104-54 win over Santa Clara.
Cougars at Bulldogs – Stats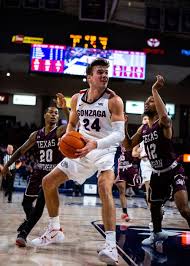 Some of the stats indicate there may be parity between these two basketball teams, After all, BYU is holding opponents to 66.9 PPG and completing 49.3% of their field goals while Gonzaga is allowing the opposition 66.7 PPG and hitting 50.3% of their shots from the field. Also, the Zags are dishing off 18.1 APG and the Cougars 17.4 APG. However, our BYU vs Gonzaga pick finds that those three statistical categories are where the parity stops.
The Zags are tops in scoring (88.7 PPG-79.2 PPG), rebounding (41.9 RPG-34.1 RPG), steals (7.7 SPG-5.6 SPG), and blocks (4.1 BPG-1.8 BPG). On the other hand, there are two areas where the Cougars are better than the Bulldogs. BYU is completing 71.5% of their free throws and Gonzaga is good on 67.2%. Additionally, the visiting Cougars are completing 40.7% of their three-pointers while the Zags are hitting 38.5%.
Player and Roster Assessment
When winning, BYU has relied primarily on senior forward Yoeli Childs. Childs leads the team with 20.9 PPG and 10.1 RPG. He's shooting 62.1% from the floor and 66.7% from down town. However, at the top of the season, Childs missed a large number of games due to a NCAA suspension. Also, he will miss tonight's game with a dislocated finger, an injury he suffered two weeks ago. Senior forward Dalton Dixon, who's averaging 8.5 PPG and 5.2 RPG, is BYU's next most-productive player in the paint. He's a 50.0% shooter. Two senior guards, Jake Toolson and T.J. Haws, offer solid ball movement. Toolson is averaging 4.4 APG and Haws 5.0. In addition, Toolson is good for 14.9 PPG while Haws is averaging 13.5 PPG. Guard Alex Barcello is putting up 10.0 PPG.
The Zags are deep in shooters. Six players are averaging double-digits, including forwards Filip Petrusev and Corey Kispert. Petrusev is scoring 16.7 PPG while Kispert is hitting for 14.2 PPG. Petrusev, a 59.6% shooter, is also grabbing 7.9 RPG. Kispert is completing 49.0% of his field goals and 43.0% of his threes. Guard Joel Ayayi is a fine player outside and inside. He's averaging 11.3 PPG, 3.6 APG, and 6.4 RPG. Ayayi is a 50.3% shooter from the field. Guard Ryan Woolridge is another sound shooter and passer. He's averaging 4.6 APG and 10.2 PPG while completing 52.4% of his field goals.
Our BYU vs Gonzaga Pick
Our BYU vs Gonzaga pick likes the Zags at -12.0 tonight. Without Childs, the Cougars are at a major disadvantage. We're looking for a big win by Gonzaga as they exploit a weakened BYU frontcourt and control the ball in the backcourt.
BYU Cougars vs Gonzaga Bulldogs Prediction – Summary
Gonzaga Bulldogs at -12.0