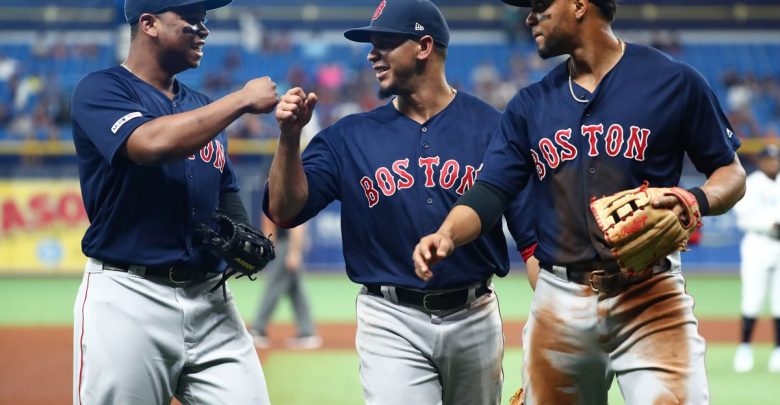 It wasn't that long ago that Tampa Bay was fighting for the lead in the American League East. Now, the Rays are just one game up on third-place Boston and will meet the Red Sox again on Tuesday night in the second of a three-game series between the two clubs.
Boston won the opener on Monday night, pulling to within a game of Tampa Bay. Both teams are far behind the first-place Yankees in the division race — Tampa Bay is nine games back while Boston is 10 — but the Wild Card is still in play. Coming into Tuesday's action, Tampa Bay trails Oakland by a game for the second Wild Card spot, with Cleveland two games ahead of the Athletics.
The moneyline for this contest is the Boston Red Sox -165 and the Tampa Bay Rays +155. The over/under has been set at 7.5.
Solid Pitching, Ugly Record
Tuesday's starter for Boston, Chris Sale, has had a good and bad season for the Red Sox this season. Sale is currently tied for third in all of baseball with 172 strikeouts, but he has an ugly 4-9 record with a 4.05 ERA. Sale was very good in his last start, going six innings against Toronto and not allowing a run on two hits while striking out 12 and walking two. But, in those six innings, he threw 101 pitches, his sixth time in eight starts he's hit the century mark despite going more than seven innings just once over that span.
Boston's offense is currently in an on-again, off-again funk. The Red Sox have won two of their last four games, scoring 26 runs in those contests, but in the two games they've lost, they've scored just two runs total — against last-place Baltimore. Rafael Devers continues to lead the Red Sox in batting average at .321 as well as RBI with 77, but Boston needs more than the 22-year-old. Mookie Betts had an MVP season in 2018, but he's failed to match those numbers again this year, coming into this game batting .282 with 15 home runs and 47 RBI.
Trying To Get Right
As the Rays have started to struggle, so has Tuesday's starter, Yonny Chirinos. On June 7, Chirinos improved to 7-2 with a win over Boston, pulling Tampa Bay within a half-game of the Yankees in the AL East with a 38-23 mark. Since then, Chirinos has gone 2-3 in seven starts, and the Rays have gone 19-23 as a team. Chirinos has pitched just that one time against Boston, but he was masterful, going eight innings and holding the Red Sox scoreless on just two hits while striking out six.
Injuries have been a problem for the Tampa Bay offense of late, with the team's leader in home runs and RBI, Brandon Lowe, sidelined since before the All-Star break with a bruised shin. Outfielder Kevin Kiermaier just went on the injured list with a thumb injury, and Yandy Diaz is questionable for this game after fouling a pitch off his left foot at the end of Monday's loss. Austin Meadows is currently on a career-best 13-game hitting streak, and Travis d'Arnaud has been heating up of late, but the Rays' offense as a whole hasn't scored more than four runs in seven games, and Tampa Bay is 1-6 in those contests.
Rays Get Win
Tampa Bay needs a win in a bad way. Dropping back down into a tie with Boston would really break the team's spirit after they led the AL East earlier this season. Look for Chirinos to have another good outing against the Red Sox and the Tampa Bay offense to piece together enough runs to eke out a victory. I'm going with Tampa Bay +155 to get the win.