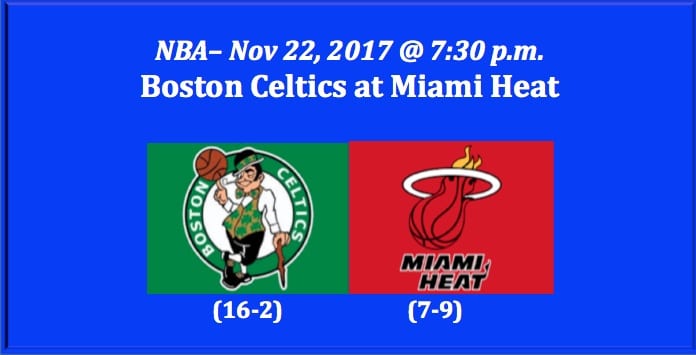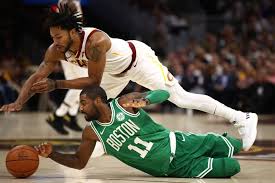 The Boston Celtics (16-2 Overall, 9-1 Away) play the Miami Heat (7-9 Overall, 3-5 Home) and put their 16-game winning-streak on the line. Our Boston plays Miami 2017 NBA free pick has the Celtics at -2.0 and the over/under at 197.0. This will be Boston's third road game in a row, having beaten Atlanta 110-99 on Nov 18 and Dallas 110-102 in overtime on Nov 20. The Miami Heat have lost three of their last five, including their last game in Indiana on Nov 19 where the Pacers beat them 120-95.
Boston Celtics Overview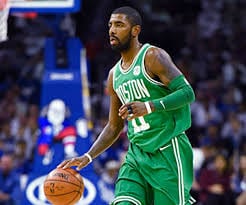 Boston comes to this game having held opponents to 94.8 PPG. That's the best PA average in the NBA. On offense, they've been good for 102.9 PPG. Their +8.1 point differential is best in the Eastern Conference. The Celtics have six players in double-digits, including point-leader PG Kyrie Irving (22.5 PPG, 5.3 APG, .468 FG%) who's hitting threes at the rate of .375. He's averaging 1.65 SPG. PF Al Horford (14.2 PPG, 8.8 RPG, .547 FG%) is a massive force inside who also hits from downtown at a rate of .431. SF Jayson Tatum (13.8 PPG, 5.8 RPG, .497 FG%) is a solid player who has stepped up his game. Boston is averaging 47.8 RPG and 8.39 SPG. Their .355 3PT% and .784 FT% are sound marks.
Miami Heat Overview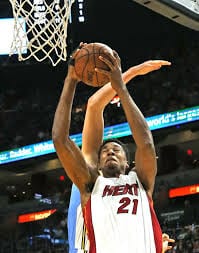 The Heat are averaging 100.3 PPG and giving up 103.1 PPG. That leaves a -2.9 point differential, which makes them vulnerable. There are just four players on the roster who are averaging double-digits per game. The top scorer for the Heat is PG Goran Dragic (18.3, 4.7 APG, .463 FG%). He's good on 37.5% of his shots from downtown. That's tops on Miami. The major inside force on the team is center Hassan Whiteside (16.2 PPG, 13.5 RPG, .579 FG%) who is exceptional on defense, averaging 1.09 SPG and 1.82 BPG. PF James Johnson is a fine all-around player in the paint, bringing down 4.5 RPG, making 5.4 APG, and scoring 12.3 PPG. The other important player in this mix is SG Dion Waiters. He offers 15.1 PPG. The Heat's averaging 43.2 RPG, 20.3 APG, and 7.69 SPG.
Three Major Takeaways
Here are three important takeaways for our Boston plays Miami 2017 NBA free pick-
Boston defense is top-notch
Inside battle will be tough; Miami needs to win it
Edge on three-point and FT shooting goes to Celtics
Free Spread and Totals Picks
Boston has to lose sometime, but we don't think this is the time. They should excel against this Heat team, outscoring them while keeping Miami's point production down. Our Boston plays Miami 2017 NBA free pick is the Celtics at -2.0 and the over at 197.0.
Boston Plays Miami Nov 22nd Free Pick: Boston at -2.0 and over 197.0