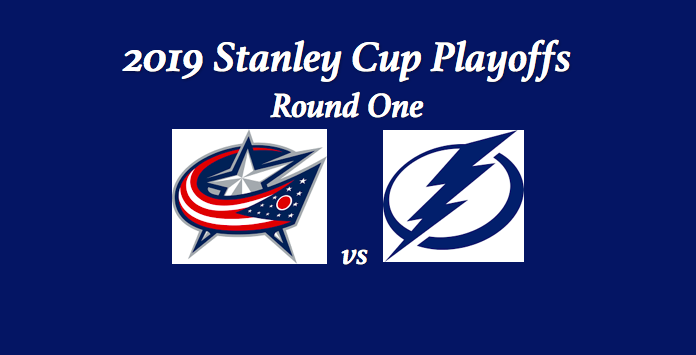 Our Blue Jackets vs Lightning Playoff Preview looks at how one of these teams, the Blue Jackets or Lighting, who are the NHL's top team, will ultimately find their way to the next round. The Tampa Bay Lightning had the most successful season since 1995-1996. Their 128 points were 21 above the next best team in the NHL. In contrast the Blue Jackets took their time to clinch their playoff spot doing so in the 81st game of their season. Tampa swept the season series between the clubs outscoring the Blue Jackets a combined 17-3 in three games.
Blue Jackets vs Lightning Playoff Preview – Goaltending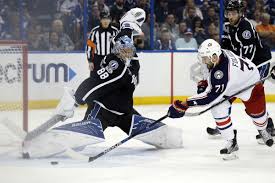 This series will feature the two best Russian goaltenders in the game today. Andrei Vasilevskiy has developed into arguably the top netminder in the NHL. While the Tampa Bay netminder led all goalies in wins with 39, he also finished in the top ten in all significant categories. His .925 save percentage ranked sixth while his GAA of 2.40 was ninth.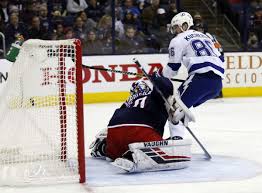 Sergei Bobrovsky will be the Jackets' starter. This Blue Jackets vs Lightning playoff preview notes that overall Bobrovsky had an average season, but he had been one of the hottest goaltenders as of late. He finished the year with a .913 save percentage after stopping .942 percents of his shots in his last ten games. Bobrovsky has traditionally struggled in the postseason. Last april he went 2-4 with a .900 save percentage. He will need to steal games in this series if the Jackets are going to have any chance of moving on.
Tampa Bay Lightning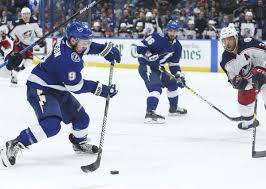 Tampa Bay's team is stacked at all positions. They finished the year with the most goals being led by Nikita Kucherov. Kucherov had a massive year putting up 128 points. While many thought he might be among the league leaders in scoring, this point total was unexpected. This was the most from a player since Mario Lemieux in 1996. Along with Kucherov Tampa Bay had two more players who finished with over 90 points and 40 goals. Steven Stamkos finished fourth in goals with 45 on the year to go along with his 53 assists. Brayden Point put up 41 goals and 51 assists. The Lightning also have very strong secondary scoring with Yanni Gourde (22-26-48), Tyler Johnson (29-18-47), JT Miller (13-34-47), and Ondrej Palat (8-26-34) scoring over 0.5 points per game. This abundance of scoring is big reason why the Lightning finished with the top powerplay in the NHL (28.2%).
On the Backend Tampa is also extremely strong. Victor Hedman had another very impressive season. Last year's Norris trophy winner finished with 54 points and a +24 rating while leading the club in time on ice. Ryan McDonagh also had a good year. He finished with a +38 plus-minus rating and 46 points. With these two, Tampa has anchors for two very impressive D-pairings.
Columbus Blue Jackets
Columbus has a very strong core as well, although they don't have the same flash as Tampa. Artemi Panarin led the team in scoring with 87 points in 79 games. He finished the season strong with eight points in the Jackets' last five games. Along with Panarin Columbus relied on Cam Atkinson for generation of their offense. Atkinson had his first 40 goal season and made his first all-star game appearance. The Blue Jackets supplement these two by acquiring Matt Duchene and Ryan Dzingel from Ottawa at the trade deadline. They were a little slow to get going after the change in scenery but have found their footing recently. Duchene has six points in his last seven games while Dzingel has three in his last four. The Acquisition of Duchene also gave the Jackets a good one-two punch down the middle with Pierre-Luc Dubois (27-34-61). They also have some strong defensmen in Seth Jones (9-37-46), Zach Werenski (11-33-44), and Ryan Murray (1-28-29). All three will need to play outstanding if Columbus is going to have any chance to beat the Lightning.
Blue Jackets vs Lightning Playoff Preview
While Columbus would likely have a good shot at moving on to the second round against most other teams in the East, they draw the toughest matchup. Both teams are deep up front and on the blue line. They also both have solid goaltending. Tampa Bay is just too good to lose in the first round. Our Blue Jackets vs Lightning playoff preview observes that the Jackets could pose some trouble, but the Lightning should be moving on to round two.
Blue Jackets vs Lightning Playoff Preview: Prediction
Tampa Bay Lightning over the Columbus Blue Jackets in 6 games