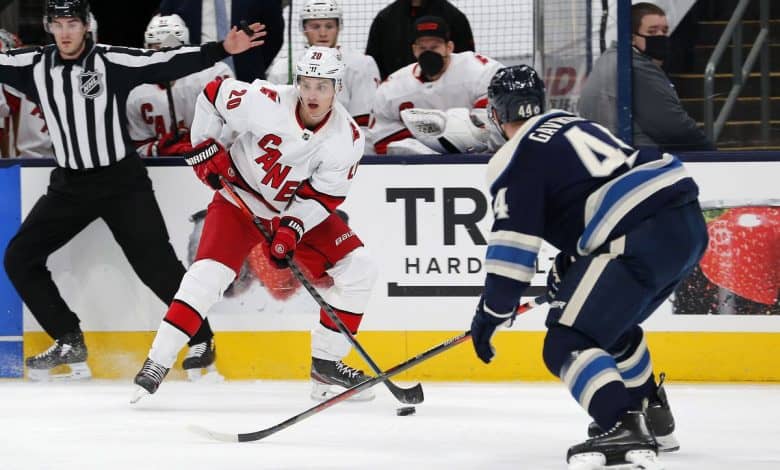 It's a battle of first versus worst in Raleigh, as the Columbus Blue Jackets (16-25-10) visit the Carolina Hurricanes (33-10-7). The Blue Jackets finally ended their nine-game losing streak with a 1-0 shootout win on Tuesday, while the Hurricanes have won two in a row after suffering back-to-back overtime losses.
These teams have played each other close all season, with Carolina holding the slight 4-3 edge with one last game to go. But that's not stopping the Canes from being big -360 favorites to win at home, while Columbus is a +290 underdog.
By the Numbers
Starting with several key offensive statistics, the Hurricanes have a clear advantage when it comes to scoring. Carolina is 10th in the NHL with 3.2 goals per game, fifth with 32.1 shots, and has the league's top power-play rate at 27.2 percent. On the other side, Columbus averages the third-fewest goals per game with 2.33, ranks 25th with just under 29 shots, and 27th with a 14.7 percent power play rate.
Defensively, it's more of the same. The Hurricanes allow the third-fewest goals in hockey with 2.36, rank eighth with 28.4 shots allowed, and fourth with a penalty kill rate of 84.4 percent. The Blue Jackets, meanwhile, are 26th in the league with 3.27 goals allowed and 28th with 32.1 shots but have a respectable penalty kill at 79.8 percent, good for 14th.
Players to Watch
Beginning with the Jackets, right-wing Oliver Bjorkstrand continues to be a positive in an otherwise bad year for Columbus. Bjorkstrand currently sits at 38 points, leading the team with 15 goals and 23 assists, after recently putting together a five-game point streak.
Next up on the team is veteran right-wing Cam Atkinson. The longtime Jacket has 31 points and is hoping to snap his three-game scoring drought. Center Jack Roslovic has also been kept off the scoresheet the last three games, as he trails Atkinson by just one point.
The wild card, as always, is right-wing Patrik Laine, the main player who came over from Winnipeg earlier this year along with Roslovic. The dynamic scorer has just 10 goals in his Jackets career and just one lone assist in his last seven games.
Switching to the Hurricanes, left-wing Sebastian Aho is having yet another dynamic season for Carolina. In the midst of a six-game point streak, Aho has three goals and eight assists during that run, bumping him to a team-high 21 goals along with 30 assists on the year.
Aho has one fewer assist than defenseman Dougie Hamilton. The former Bruin has oddly been without an assist in the last five games but did score his seventh and eighth goals of the season to make up for it.
A couple of other prominent names to watch also include right-wing Andrei Svechnikov and center Jordan Staal. Svechnikov has been a play-making machine, registering five assists in the last week to give him 24 on the season. Meanwhile, Staal has surged with a pair of goals and three assists over his last five games, tying him with Svechnikov at 37 points.
Goalies
With Joonas Korpisalo done for the season, Elvis Merzlikins has gone from one-half of Columbus' timeshare to the sole starter in net. This season, Merzlikins is 7-12-3 with a 2.80 GAA and .916 save percentage.
As Petr Mrazek continues to recover from an injury, Carolina has used both James Reimer and Alex Nedeljkovic in net over the last few games. Saturday, it should be Nedeljkovic's turn, as the 25-year old is 13-4-3 with an impressive 1.94 GAA, and .932 save percentage.
Betting Pick
While Columbus has stayed largely competitive against Carolina this season, this one could get ugly. The win the Blue Jackets just had to snap their nine-game losing streak was one they didn't score in until the shootout, continuing their run of putrid scoring. They should face some difficulty against the league's third-ranked defense and a red-hot goalie.
With Aho, Svechnikov, and more of Carolina's primary contributors all scoring in bunches recently, this is a game I like to be decided by multiple goals. That's why the Canes -1.5 is a much better bet than to win straight up.
Pick: Hurricanes -1.5 (-126)