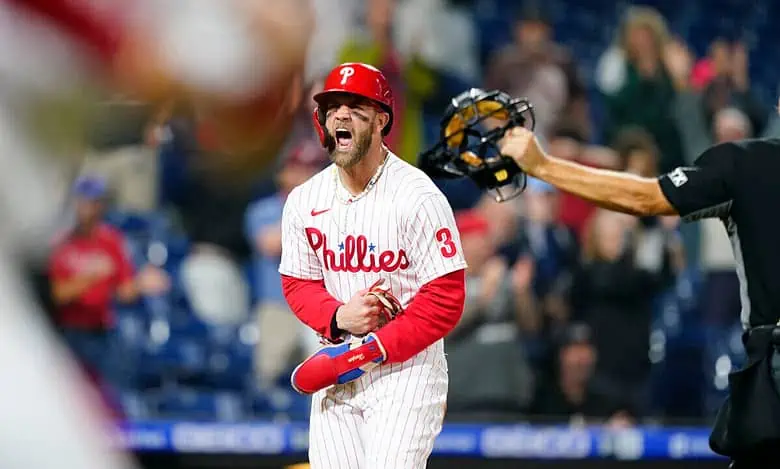 The MLB Playoffs continue this week, but the best and most important game of the week will take place on Wednesday. The Atlanta Braves and Philadelphia Phillies meet up for Game 3 of the NLDS, and the winner will gain a big advantage.
Atlanta comes into this series with some momentum after picking up a huge come-from-behind win in Game 2 of the series. The Braves are the top overall seed in the playoffs after winning 104 games during the regular season.
Philadelphia won the National League a season ago, and they certainly have the talent to get the job done yet again. The Phillies won their first three playoff games before suffering a bad loss in their most recent game.
The Phillies are the slight betting favorites at -120 in this game.
Powerful Braves Lineup
This Atlanta Braves lineup is simply loaded with talent, and they have the ability to strike at any given time. Atlanta belted a pair of clutch home runs in the Game 2 win, and it was Austin Riley that came up with the biggest swing.
Ronald Acuna Jr. was the first player in MLB history to have at least 40 home runs and 70 stolen bases this season, but he has been quiet up to this point. The Braves are going to need to have another big game on offense if they want to win another game.
Atlanta has not yet named a starting pitcher for this game, and that is something that should cause some problems in this game. The Braves do have a solid bullpen, but they can't afford to get 27 outs with relievers.
Phillies Need to Pitch
The Philadelphia Phillies are one of the few teams that have the offensive talent to keep up with the Braves, but that's not a good strategy. Philadelphia did have a team batting average of .256 during the regular year, and they have some power as well.
Bryce Harper is going to have to lead the team in this one, and he did belt a long home run in the series opener. Harper also made a baserunning blunder to end Game 2, and he is going to have to recover from that play.
Aaron Nola is set to start this game for the Phillies, and he went 12-9 with a 4.46 ERA this season. Nola isn't going to completely shut the Braves down, but he has to give his offense a chance to win this one.
Braves Beat Up on Phillies
Philadelphia looked to have the clear lead in this series through the first game, but things have now changed in a big way. Atlanta stormed back to pick up a win in Game 2, and that offense is now going to come into this game with momentum.
The Braves do have some decisions to make in the pitching department in this game, but they always seem to find a way to get things done. Philadelphia won't be able to score enough to win this game, as the Braves are going to have another big day at the plate.
Bet the Atlanta Braves +100 in this matchup on Wednesday night as the best team in baseball gets a big win.