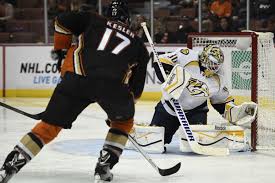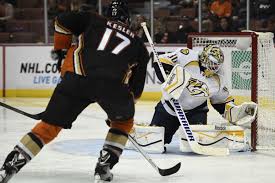 Our Anaheim plays. Nashville NHL West Finals pick offers the Ducks who finished first in the Pacific Division with 105 regular-season points and the Predators who made it into the playoffs as the second wild card in the West with 94 points. Anaheim is where many thought they would be when the playoffs started. But Nashville has been a surprise. First they beat the Chicago Blackhawks and then the St. Louis Blues to get to this point.
Ducks and Predators: Regular Season Meetings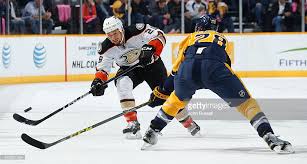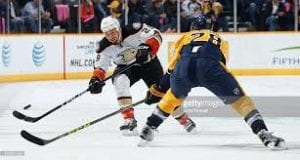 Anaheim and Nashville met three times during the regular season with the Ducks taking the series three games to one. One of those wins occurred during a shootout. In those three games, these teams played fairly even hockey with Anaheim scoring 10 goals and Nashville nine. The Ducks outshot their opponents by 32 or an average of 10.7 shots per game. Nashville has been dominant at center and is the top face off team in the playoffs. That may give them a major advantage.
Teams and Players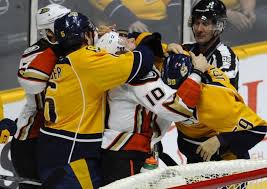 In the regular season, Nashville was a fairly average team, 11th in average goals scored, 15th in goals against, 15 on the power play and 16th on the PK. A key player for this team is defenseman P.K. Subban has seven points, including four power play assists. Younger center Ryan Johansen, who has two goals and seven assists, has been solid in the playoffs. But he will be challenged. D-man Ryan Ellis leads the team with four goals. He has a total of nine points. Just about every man on the team is on the plus side with Filip Forsberg leading the club at +11.
Anaheim was 18th in goals scored and 17th on the power play. Their defense was solid, coming in third in goals against and fourth on the penalty kill. For the Ducks, centers Ryan Getzlaf (8 G, 7 A), Ryan Kesler (1 G, 6 A) and Rickard Rakell (6 G, 4 A) have been dominant. LW Jakob Silfverberg (7 G, 4 A) has been an important contributor. Getzlaf has three power play goals and Rakell is at +10. This team has shown a solid ability to come back.
Anaheim vs. Nashville in Goal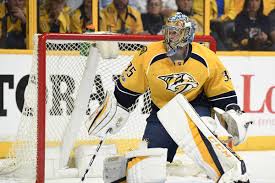 Nashville's Pekka Rinne is the best post-season goalie, posting a .951 save percentage and 1.37 goals against average. He's notched two playoff shutouts. Anaheim goalie John Gibson brings a .908 save percentage and a goals against average of 2.80. In the series with the Oilers, he made some big saves, but his save percentage was a disappointing .895.
Anaheim vs. Nashville Playoff Schedule
Game 1: Predators at Ducks, Friday, May 12, 9 p.m.
Game 2: Predators at Ducks, Sunday, May 14, 7:30 p.m.
Game 3: Ducks at Predators, Tuesday, May 16, 8 p.m.
Game 4: Ducks at Predators, Thursday, May 18, 8 p.m.
Game 5: Predators at Ducks, Saturday, May 20, 7:15 p.m.*
Game 6: Ducks at Predators, Monday, May 22, 8 p.m.*
Game 7: Predators at Ducks, Wednesday, May 24, 9 p.m.*
*If necessary
Anaheim Plays. Nashville NHL West Finals Pick
The Predator goaltending has been phenomenal and the team has done a good job grinding it out. Anaheim has played inconsistently and despite the fact that will put three dynamic centers on the ice, we like Nashville. Our Anaheim plays. Nashville NHL West Finals pick is Nashville in six.
Anaheim Plays Nashville NHL West Finals Pick: Nashville in six games