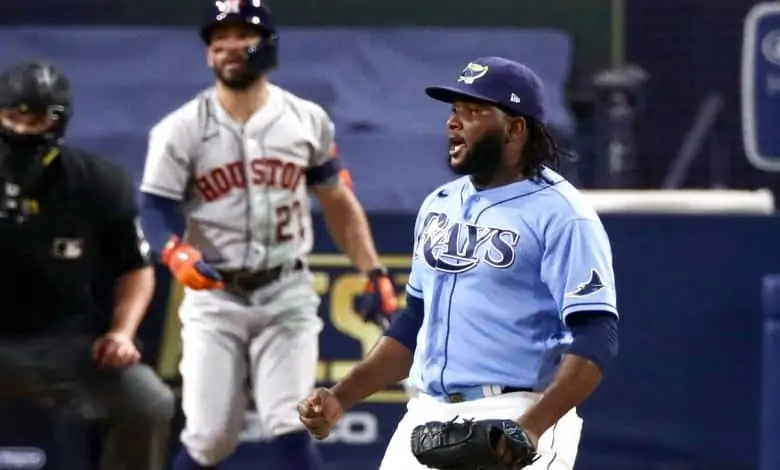 Houston is starting to get up against the wall heading into Rays vs Astros game 3 betting. Tampa Bay has rattled off 2-1 and 4-2 victories the past two days to go up two games to none in the best-of-seven ALCS series.
The Rays have been -129 and -111 favorites the past two games behind Blake Snell and Charlie Morton on the mound. The numbers level off a bit ahead of Tuesday night's tilt (8:40 PM ET, TBS) with Tampa Bay at -108 behind Ryan Yarbrough making his first start of the postseason. After being +119 and +103 underdogs, Houston is -102 behind Jose Urquidy in this must-win situation.
Solid Pitching Continues for Tampa Bay
The Rays had a top 5 pitching staff in ERA and WHIP during the regular season and that has guided them to three straight wins in the postseason. Tampa Bay shut down a potent Yankees offense 2-1 to capture their ALDS series, and have now held the streaking Houston offense to just 3 runs through the first two games of the ALCS.
This was a Houston offense that had plated 32 runs in their 3-1 division series win over the Athletics. Four straight games have now gone under the total for Tampa Bay during these playoffs. The number is up slightly to 8.5 heading into Rays vs Astros game 3 betting however.
It's hard to know what to expect from Tampa Bay starter Ryan Yarbrough in game 3. The left-hander threw 5.0 innings of 2ER allowed ball in relief in game 4 of the ALDS, but has taken the hill just three times in the last 23 days. Yarbrough's last start came on September 20th.
Houston the Better Team Despite Being Down 0-2?
Some will say bad luck, others will nod to bad karma, but Houston cannot seem to get a break through the first two games of this series. The Astros have scored three runs total the last two days on a couple of solo home runs and a bases-loaded double play ball. Houston has outhit Tampa Bay 9-5 and 10-4, but still trail 0-2 in the series.
Rays catcher Mike Zunino, who had a .147 average during the regular season, has two huge RBI for Tampa Bay in each of the past two games including a home run in game two. A Jose Altuve error extended the 1st inning on Monday, only for Rays OF Manuel Margot to hit a 3-run home run. Are things about to turn Houston's way heading into game three?
The red hot Houston offense has gone cold against Tampa Bay's pitching staff, as far as scoring runs are concerned. Altuve and Alex Bregman both had multi-hit games in the series opener but Houston could muster just one run. On Monday, Bregman was the only Astros starter without a hit and it still equated to just two runs. Jose Urquidy shouldn't expect a whole lot of run support on Tuesday, but he allowed 4HR to the A's in his divisional round start.
Astros vs Rays Game 3 Betting Free Pick
The first two games of this series have been dominated by pitching and timely hitting from the Rays. Houston is compiling a ton of hits, but just can't seem to turn those into runs. The line says that should change on Tuesday, in what could be a higher scoring game. Urquidy was rocked in his last start vs. Oakland, but Yarbrough is hit-or-miss in his first start in over three weeks.
Astros 7 Rays 3
Free Pick: Astros -102
Free Pick: Over 8.5