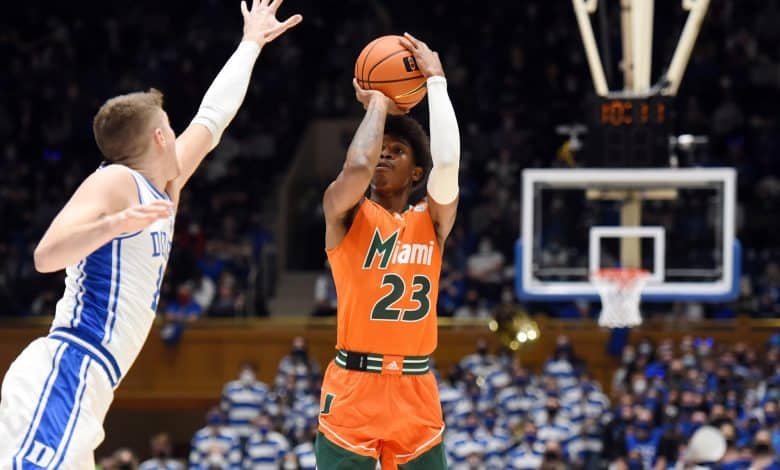 The Blue Devils put an impressive record on the line heading into the ACC Tournament Miami vs Duke matchup. You have to go back to 2018 to the last time Duke lost in the conference tournament, winning it in 2019, having it cancelled in 2020 for COVID, and then pulling out after two wins last season due to protocols.
The Hurricanes don't care when Duke last lost an ACC Tournament game, just like they didn't care that the Blue Devils were #2 in the country and playing at home when Miami delivered the 76-74 upset as -15 point favorites on January 8th. Despite that win by the 'Canes, they are still +9 points at the Barclays Center in Brooklyn on Friday night.
Miami Survived on Thursday
The Hurricanes were -8 point favorites in their matchup with Boston College on Thursday night, but got more than they bargained for before pulling away with a 71-69 OT win. It was a solid offensive showing though with four players scoring at least 13 points, and the win brought Miami's record to 23-9 which all but sealed their berth in the NCAA Tournament (93.6% chance).
Now Miami sets their sights on a second win over Duke this season and a third overall. They played with great energy in the January 8th win at Cameron Indoor Stadium, withstanding a tough environment and going blow for blow with the Blue Devils down the stretch. Once again the name of the game was balance, with five different players scoring at least 14 points.
That balance is what has enabled the Hurricanes to compile the ACC's #5 scoring offense with 74.8 ppg. Their adjusted offensive efficiency is 17th in the nation so this one has the potential to be a high scoring game (O/U 148.5). Kameron McGusty leads the way with 17.5 ppg while Isaiah Wong adds 15.5 per.
Destiny for Duke?
Sure the Blue Devils have played sparingly in tournaments since 2018, but going that far for your last loss in the conference tournament still gives the team some momentum. They also happen to be playing in Mike Krzyzewski's final conference postseason, so that has to provide some extra motivation.
Sentimentality was out the window in Duke's regular season finale shellacking, 94-81 at the hands of rival North Carolina in Krzyzewski's last home game. The Blue Devils had won 12 of 13 before that defeat however.
Duke also didn't look as sharp as Krzyzewski would have liked in their ACC tournament opener, outlasting Syracuse 88-79 as -15 point favorites. The Orange were without conference leading scorer Buddy Boeheim (19.3 ppg) who was suspended after throwing a punch in Wednesday's game against Florida State. Mark Williams led Duke with 26 points.
Free ACC Tournament Miami vs Duke Betting Pick
Miami is getting +9 points in this spot and the majority of the public likes the underdogs – not necessarily to win outright but to cover that huge number. You have to think the Blue Devils have a little revenge on their minds though, and it just feels like Duke and North Carolina are destined to a rematch in the Championship game Saturday night on ESPN.
Duke 84 – Miami 71
Free Pick: Duke -9