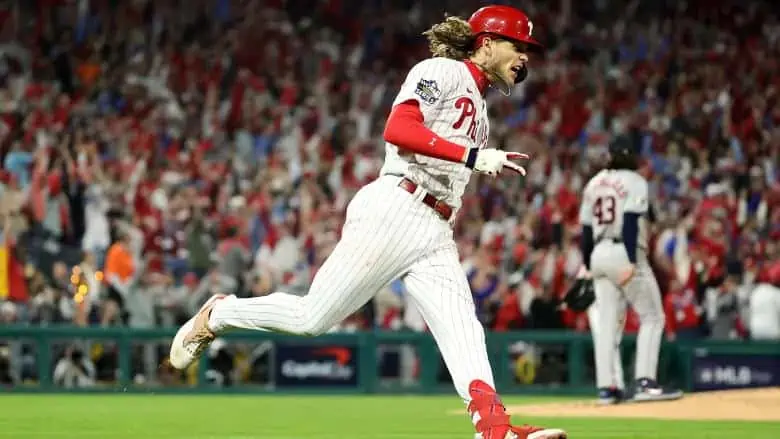 Philadelphia is hoping that their power stroke continues heading into the World Series Game 4 betting matchup. The Phillies tied a Fall Classic record with five HRs on Tuesday night's 7-0 victory that gave them a 2-1 advantage in the series. Philadelphia can go up 3-1 with a win on Wednesday night and could potentially celebrate a title in front of their own fans on Thursday.
The Astros are down – but they are not out. Houston can take back home field advantage with a win on Wednesday – or Thursday and play Games 6 and 7 at Minute Maid Park. Many books have this a toss-up -110 or -105 line on both teams so it should be a good one.
Astros Offense Needs to Get Going
Houston was only outhit 7-5 in Game 3 it's just that five of the Phillies hits left Citizens Bank Park. One thing the Astros would like to improve upon Wednesday night is the top five players in their order going a combined 1-18.
The Astros do get another crack at Aaron Nola in the World Series Game 4 matchup and they tagged him for 5ER over 4.1 IP in Game 1 which included Kyle Tucker hitting a couple of HRs. The Phillies ended up winning that game 6-5 in 10 innings however before the Astros picked up their lone victory of the series so far taking Game 2 5-2.
Cristian Javier pitches for the Astros in Game 4 making his first appearance since Game 3 against the Yankees which was 10 days ago. Javier gave up just 1 hit in that matchup but he also only threw 1.1 IP of relief in the Seattle series so he's thrown just 6.2 IP since October 1st.
Phillies Putting Up Some Runs
Philadelphia had a great bounce back from their 5-2 loss on Saturday in which they managed just 1 ER over 6.1 IP against Framber Valdez. Instead on Tuesday Bryce Harper hit his 6th HR of the postseason in the 1st inning while both Alec Bohm and Brandon Marsh went deep in the 2nd as the Phillies already had a 4-0 lead. Kyle Schwarber and Rhys Hoskins also went deep.
The Phillies will try to keep the power game going when they face Javier in Game 4. Only Marsh (4-7) and Schwarber (0-2) have faced the Astros starter in their careers.
Nola will try for a better outing and find his form from early in the postseason. Nola also allowed 6ER over 4.2 IP to the Padres in the NLCS and has 2022 playoff ERA is up to 4.57 even after throwing 12.2 scoreless innings in starts vs St. Louis and Atlanta.
Free World Series Game 4 Betting Pick
Can Houston get the win on Wednesday night and take back home field advantage? 64% of the betting public likes Philadelphia here and Citizens Bank Park was rocking on Tuesday night. The teams have alternated wins and losses so far this series so that would leave Houston due for the win if that trend continues.
It should be noted that Nola's struggles the last two games both came on the road and he kept Atlanta scoreless over 6.0 IP in his lone home outing this postseason. The Phillies offense is clicking and with the atmosphere at home they get the edge.
Free Pick: Phillies -110