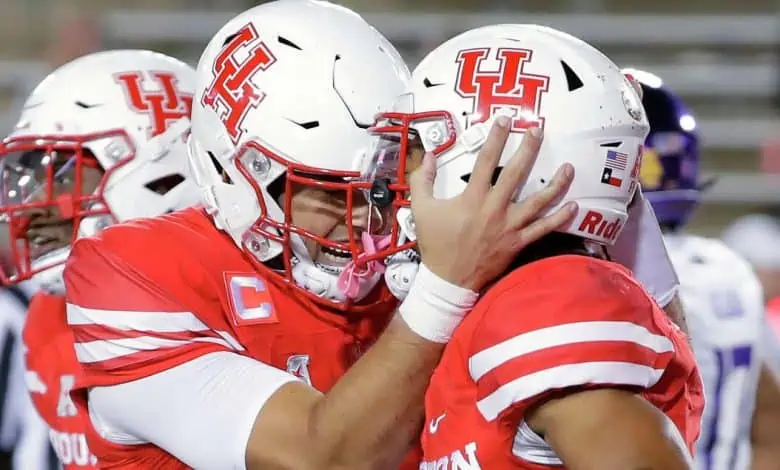 The 2022 Independence Bowl could be a high scoring affair, at least on one side of the field. The UL-Lafayette vs Houston matchup features the Cougars' #7 ranked passing offense that throws for 321.1 yards/game and scores 37.2 ppg which ranked 14th in the nation.
The Ragin Cajuns (6-6) have their work cut out for them on Friday afternoon. They have a QB that only returned to the lineup the last two games of the regular season following injury and their top receiver is opting out to prepare for the NFL Draft. Even with all that working against them, 54% of the betting public likes ULL getting the +7 points.
Home State Advantage Give ULL the Edge?
There aren't a whole lot of intangibles going the Ragin Cajuns way on Friday afternoon except possibly location. The Independence Bowl is held in Shreveport, Louisiana which is three hours north on I-49 from the Lousiana-Lafayette campus.
Aside from having the crowd on their side, things are looking bleak for ULL. QB Ben Wooldridge had 5 TD passes in a win over Arkansas State in week 8 and threw three more in a victory over Georgia State in week 11 but that was his last game of the year after being knocked out with a lower leg injury. Ragin Cajuns leading WR Michael Jefferson (810 yards, 7 TDs) is also opting out of this game to prepare for the NFL draft.
Chandler Fields will start his third straight game in the ULL vs Houston matchup, not throwing for more than 200 yards in either of his last two although he does have 3TDs to 1 INT over that span. The Cougars also have the third worst pass defense in the country (285.8 ypg) but some of that also comes from the UH offense being so good and teams needing to throw the ball to catch up.
Last Hurrah for Houston Duo
Jefferson is not the only player opting out for UL-Lafayette, as their leading rusher Andre Jones (6.5 sacks) is also going to focus on the NFL draft instead of partaking in the Independence Bowl. That's quite the different approach than Houston is taking, with QB Clayton Tune playing despite being a projected day three selection and Nathaniel Dell also suiting up despite being a top 15 WR in the NFL Draft.
Aside from Case Keenum – Patrick Edwards you'd be hard pressed to find a better QB/WR duo at Houston than Tune and Dell. Tune is third in program history with 11,765 pass yards and has thrown for 3,200+ yards in back to back seasons. Tune threw 37 TDs this season, including 7 in week 10 in a 77-63 loss to SMU.
Dell had 103 receptions this year and with 5 catches on Friday he can move into second place for the most in a single season at Houston. His 15 TD catches in 2022 are also the third most in a single season at UH.
Free ULL vs Houston Betting Pick
The Cougars are a -7 point favorite here but that number even seems low. Houston has an explosive offense and more importantly – people that are playing in this game instead of opting out.
Free Pick: Houston -7