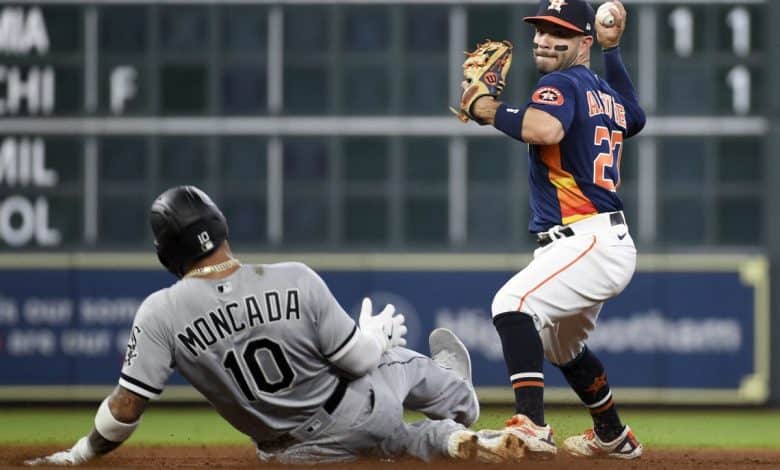 A couple of seasoned skippers meet up in the ALDS White Sox at Astros game 1 when Tony La Russa brings his Chicago club to face Dusty Baker and Houston. The duo has 7 manager of the year awards between them and over 50 years of experience.
This game – and series -is still about the players though, with Houston being the much more experienced postseason squad. The Astros are a -135 for Thursday afternoon's series opener when Lance Lynn takes on Lance McCullers, Jr. 
Value on Chicago +115?
The White Sox got some valuable playoff experience for their young team last season, even if it was falling 2-1 to Oakland in the best-of-three series. It was postseason baseball, but there were also no fans in attendance due to the league's COVID protocols. This means the White Sox are playing their first playoff game in front of fans since 2008 when they visit Minute Maid Park on Thursday.
Chicago was 2-5 head to head vs. the Astros last season, but took two of three in Houston in the teams' most recent meeting way back on July 16th-18th. The South Siders are coming into the postseason strong though, winning six of their last seven in the regular season.
Tim Anderson is red hot with a .405 average over his last 9 games, and Luis Robert has provided the power with 5 HRs over that span. That has helped Chicago wade through a rough couple weeks from Yoan Moncada (13 K's last 36 AB) and Jose Abreu (.219 average last 9 games).
Will we see good Lance Lynn (11-6, 2.75 ERA) or bad Lance Lynn in the ALDS White Sox at Astros game 1 matchup? Lynn has had a couple rough outings over the last month plus giving up 7 ER to the Cubs on August 28th. That preceded some time on the I.L with knee inflammation, and Lynn has returned to allow 2 ER in three of his last four starts, but giving up 6 to the Indians on September 26th.
Just Another Game for Experienced Houston?
While the White Sox will be experiencing their first playoff game in front of fans in quite some time, it's business as usual for the Astros as they begin their sixth postseason in the last seven years. That includes a World Series loss to the Nationals in 2019 and falling in the ALCS last year to Tampa Bay, so Houston has put together some pretty deep runs.
Houston has some nice value at just -135 on Thursday, due largely in part because they rocked Lynn for 6 ER over 4.0 IP in a 7-3 win on June 19th. The Astros are 53 for 165 (.321) as a team vs. Lynn, with a whopping 10 of those hits leaving the yard.
Lance McCullers, Jr. (13-5, 3.16 ERA) goes for Houston looking to keep an opponent to 2 R or less for the 6th time in the last seven games.  McCullers, Jr. has given up 1 ER and 2 ER in two starts vs. Chicago this season.
Free ALDS White Sox at Astros Game 1 Pick
Lynn is a wild card in this game, pitching well for the most part since returning from brief knee inflammation but also giving up 6 ER to Cleveland to end September. How will the young Chicago bats fare in this atmosphere also? Ultimately with the price, Houston has the value at home.
Astros 6 – White Sox 2
Free Pick: Astros -135