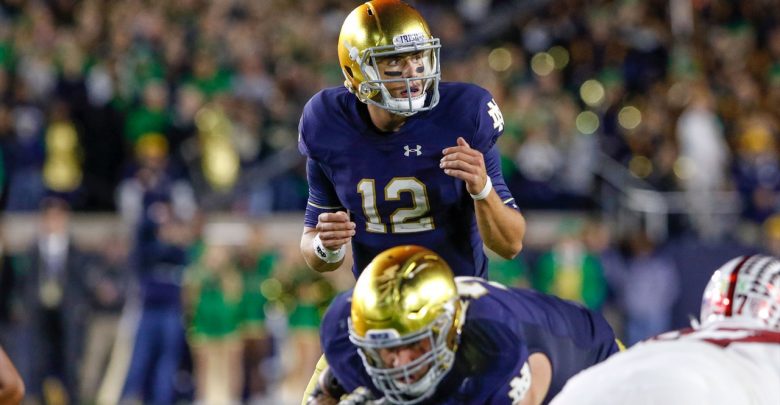 Oddsmakers have listed the Irish as -19 favorites when they visit Cardinal Stadium in the 2019 Notre Dame at Louisville free pick. Brian Kelly's team was able to make it all the way to the CFP Playoffs in 2018 and hopes are high as 13 starters return from that 12-1 squad. Louisville lost their last 9 games a year ago, but want to make an immediate impact under new coach Scott Satterfield.
Notre Dame's Experience Offense Too Much for Louisville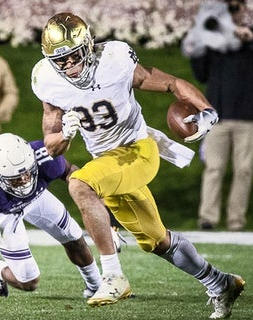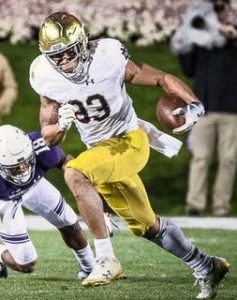 The Irish are expecting huge things out of their offense in 2019 mostly due to the return of signal caller Ian Book. He tallied 9 starts for Notre Dame a season ago, throwing for at least 2 TDs in each of his last 8 games. Book is helped by 4 O-lineman with 55 combined starts returning up front. Chase Claypool had a 50-catch season a year ago and is a big target at 6'4″ and 229 pounds. Notre Dame loses a solid running back in Dexter Williams, who is off to Green Bay, but should be able to find success vs. a Louisville defense that was 126th in the country vs. the rush in '18.
The Irish defense also suffered some loss especially at linebacker where there are two new starters and another making a position changes. Notre Dame does have a 3-deep rotation at both defensive ends though and is up against a Louisville offensive line that was atrocious last season, allowing 43 sacks which was the 3rd most in the nation. Defense will be a strength in the 2019 Notre Dame vs. Louisville free pick, as DC Clark Lea's system ranked 13th in the country in points allowed last year.
New Beginning for Louisville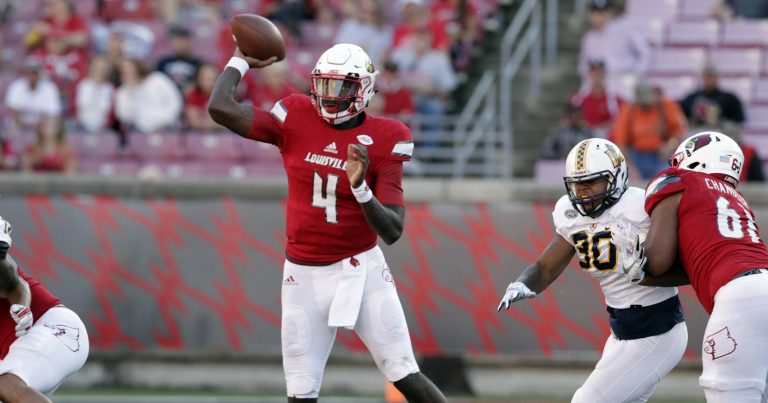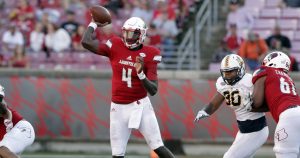 The Cardinals begin the Scott Satterfield era in the 2019 Notre Dame vs. Louisville free pick. Satterfield comes over from Appalachian State where he was successful, but the Fighting Irish are no Sun Belt foe. The Cardinals do return a lot of players, but players that contributed to the team going just 2-10 last season including winless in the ACC. 6'4″ Jawon Pass is back at QB but he was benched after a half in one game last season and threw just 3 passes in another. It still might be too soon for Satterfield's squad as Louisville ranked 121st in the country in scoring a year ago. The line hasn't improved enough to match up with the Irish defense either.
9 of the top 11 tacklers return for Louisville in 2019 but it was a defense that was extremely bad a year ago. The Cardinals gave up at least 50 points (!) in 6 of their last 7 games in '18. Bryan Brown comes over with Satterfield from Appalachian State as the new defensive coordinator though and that side of the ball was a specialty for the Mountaineers. Notre Dame returns a very experienced (and good) offensive line though and a quarterback with big play capabilities.
2019 Notre Dame at. Louisville Free Pick
19 points is a lot to win by on the road, in your opener, and against a team with fresh momentum from a regime change. Louisville was historically bad on both sides of the ball last year though and it's hard to fix that in one Spring camp. The Irish didn't start the best last year though, going 3-0 to begin the season but all wins by a TD or less and at home. The Cardinals have some playmakers as well as an improved defensive system though and should keep it within 2 TD's.
Free Pick: Louisville Cardinals +19