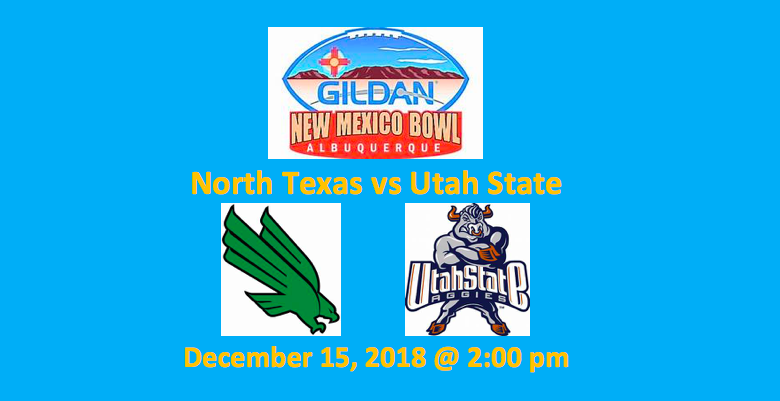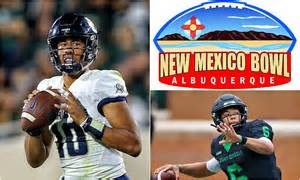 In creating our 2018 New Mexico Bowl pick, we felt that one thing was for certain- we should see a lot of points scored. The Utah State Aggies (10-2, 1st MW- Mountain) are averaging 47.1 PPG, while the North Texas Mean Green (9-3, 2nd Conf-USA – West) has been good for 34.5 PPG. The Aggies have allowed 23.0 PPG. The Mean Green have given up 21.8. Our 2018 New Mexico Bowl pick has Utah State at -7.5 or -8.0. The over/under ranges from 66.0 to 68.0.
North Texas opened their season with four straight wins but then went three-and-three before winning their final two games of the season. Losses included a big one to conference champs UAB. That occurred midway through the season with the final score being 29-21. Although the Aggies tied for first with Boise State in the Mountain Division of MW, their 33-24 loss to #23 Boise State in the last game of the regular season left them out of the conference championship. Prior to that loss, they had reeled off 10 straight wins. Their only other loss was in the first game of the season to #11 Michigan State.
Utah State Analysis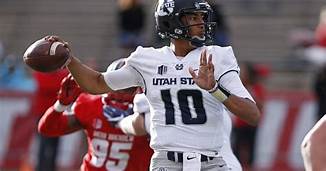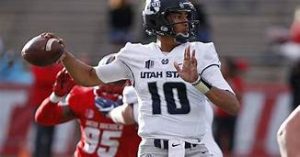 Utah State has both able passing and running offenses. The Aggies have been good for 288.8 passing yards per game and another 203.7 rushing yards. This is a dynamic attack that features sophomore Jordan Love (65.8 COMP%, 28 TDs, 5 INTs) at quarterback. Love threw for over 3,200 yards this season. His top target was senior Ron'quavion Tarver. Tarver has 62 receptions with seven of those going for scores. Jalen Green, another senior, had 38 catches while averaging 14.2 yards per catch and taking in five TD passes. Junior running backs Darwin Thompson (951 YDs, 7.2 YPA, 14 TDs) and Gerald Bright (785 YDs, 6.3 YPA, 8 TDs) are both solid and are always TD threats. The Aggies have accumulated 18 INTs, 50 PD, and six TDs. Team sacks total 29, while TFL come to over 80.
North Texas Analysis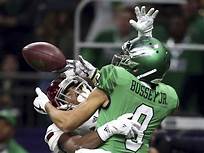 The Mean Green are generating 472.8 yards of offense per game. But unlike Utah State, this team's offense efforts are less balances. North Texas is a passing team that is averaging 316.3 YPG in the air. They've been rushing for just 156.6 YPG. QB Mason Fine (64.6 COMP%, 27 TDs, 5 INTs), a junior, has three targets with 45 or more catches each. Junior wideout Rico Bussey Jr. (68 REC, 15.0 YPC, 12 TDs) leads the team in receptions, total passing yards, average yards per catch, and TD catches. Although the North Texas running game is not as deep as Utah State's, they do have sophomore DeAndre Torrey (942 YDs, 5.9 YPA, 14 TDs). Torrey has the ability to take the ball the length of the field. The North Texas D has more than 40 PD and has taken away 17 passes. They also have 32 sacks and over 70 TFL. Of the four fumbles forced, they have recovered all four.
Five Keys to the Game
Dueling pass attacks
Deep Aggie rush attack could be difference
North Texas run D is solid
U.S.U. head coach Matt Wells gone, Frank Maile interim appointment
Aggie D can score
2018 New Mexico Bowl Pick
We like Utah State in this game for a few reasons. First is their defense, which we feel is a bit more opportunistic than the North Texas D. The Mean Green do have a decent running defense, but their air D is questionable. Although it's true that the Aggies have lost their head coach, as well as a coordinator, but the team still has a lot of continuity in the coaching ranks. We think that U.S.U. will be able to put up about 49 points, while the Mean Green will manage about 21. With those thoughts in mind, our 2018 New Mexico Bowl pick is the Aggies at -7.5 and the over at 66.0. Go to Betting Brain's 2018-19 Bowl Central for more picks.
Summary North Texas Mean Green vs Utah State Aggies Picks: Utah State at -7.5 and over 66.0