TopBet is Now Blacklisted!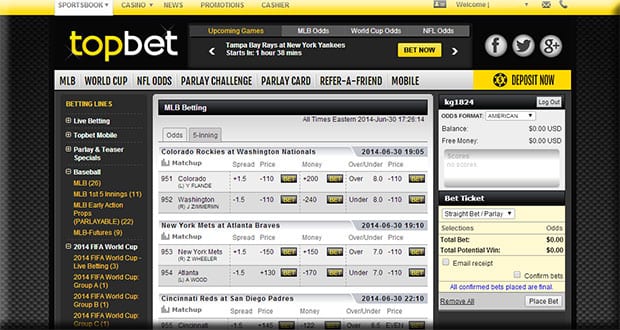 In a Nutshell...
TopBet was a decent sportsbook, then around July 2016 payments slowed and are still very very slow (5+ months) in July 2017..
Negatives
Slow payments: 3-6 months!
Slow website
Beware
– Way too many reports of unpaid payouts that are 3-6 months old.  For that reason we are adding TopBet.eu to
our blacklisted sportsbook list
.  There are
too many superior sportsbooks
that payout fast, for you to be dealing with Topbet.
We will keep the review listed below (from early 2016) for informational purposes.
If you see a website that has Topbet in their "Top 5 Sportsbook" they are a joke and either has outdated information or they are just online marketers that don't really care about sports betting.
Topbet is a relatively new entrant to the sports betting industry, launching in 2011. They have rapidly become a popular destination for US sports fans thanks to their wide range of promotions, but in 2016-2017 things have started to go south mainly with slow payouts. Specializing in catering for the US based gambler, this site offers both sports betting and casino games. Topbet is run out of Manila in the Philippines and is licensed by the government of Curacao, Netherlands Antilles.
Sports Coverage at Topbet
Topbet specialize in the major US sports and offer a wide range of markets and lines. In addition, they offer a selection of lines for College Football, Boxing and Golf. Other sports covered include Soccer, Tennis, NASCAR and MMA, plus many other niche and international sports too.
This site does not have a separate book for Horse Racing, though they do allow you to bet on the big racing events though their regular sports betting interface.
Placing Bets At Topbet
Unlike many books, you are not hit with too much information right from the homepage. Instead of seeing a sea of numbers and lines, you'll get clear navigation to the sports you are most interested in. There is a menu on the top for the major areas of the site (including their casino and cashier), with the sports listed on the left hand side. I recommend you check the main 'promotions' tab regularly, as there are new offers here all the time.
The main betting displays are concise and ad free, with just the key lines information and options available. There is a drop down menu on the bet ticket which allows you to adjust for parlay betting, reverse bets and singles.
Mobile users can access the fully responsive site from all major phone and tablet brands. There is no app to download. Once you access the website it detects your device and displays the mobile-optimized version.  I am not a fan of their mobile site, but I guess it could be worse..
Bonuses and Special Offers
New players will receive a first deposit bonus of 50% up to $250 – which has a competitive 5x roll-over requirement. On top of this you will also get a 10% bonus on every future deposit.
Promotions are changing all the time, and often include free bets on whatever sporting event is happening at the time. For example, free NBA finals bets, or a Sunday night baseball offer. You will sometimes find risk-free casino chip offers added. Check the promotions tab at topbet.eu now to see the latest deals.
Deposits and Withdrawals at Topbet
US deposit options include both MasterCard and Visa credit cards. You'll find these go through first time regularly. Pre-paid Visa and QuickCash deposits are also possible here. Western Union deposits can also be made. You'll need to speak with the customer support team and get a number and recipient name before you use this method. Minimum deposits are higher than at some books, with $50 the smallest amount for credit cards.
Beware – Only 2 Payout Options – paper checks and Western Union payouts. Both work great, but other books offer bank wires, bitcoin and other options.
Withdrawals can be made by paper check which will arrive in 30-45 days, and one free cash out is allowed per month. There is a courier option for check withdrawals available. You may also be able to cash out using Western Union's 'Rapid Transfer'.  Payments have really slowed down around September 2016 and still have not picked up as of May 2017.
What Makes Topbet Stand Out From Other Sites?
TopBet focus on US sports and offer a great selection of lines and bets which include options for both serious bettors and casual sports betting fans. By tying promotions to the major events, they give you the chance to enjoy some entertaining extra bets.
There is both a generous welcome bonus and a lifetime 10% for extra deposits here.
This book is clean and easy to use, and has developed an excellent responsive mobile interface. I would recommend Topbet over some of the bigger books if you want to enjoy betting while on the move.
TopBet Review – Summed Up
This is a relatively new book which is growing quickly in their core market of the US. A clean interface, including mobile site, plus regular promotions and special deals are behind their success. With a focus on US sports and easy deposit and withdrawal options – this book should continue to grow. Check out the latest offers at www.topbet.eu for yourself now.