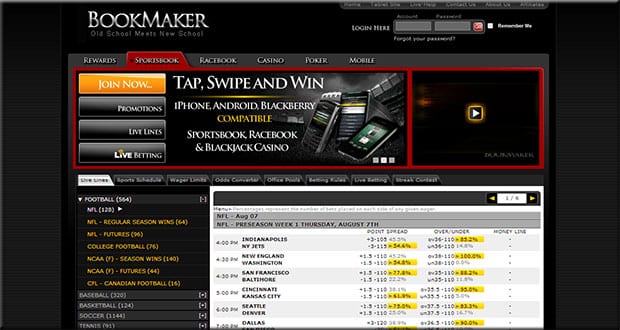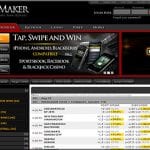 Bookmaker Review for 2023
In a Nutshell...
Bookmaker is a classic with a great reputation. They are the best at setting the lines. and you should always have a part of your bankroll at Bookmaker.
Deposit/Payout Options
8.6
Positives
Higher Limits than all other Sportsbooks
Low 4x rollover on Bonus
10% Reload bonus only has 3x rollover
Best Betting Lines
Negatives
Live Betting Interface is junk
Bank wire payout is slow (2 weeks)
Bookmaker is a seasoned online sportsbook that has been around since the beginning of the internet.  I remember using them in the late 90's, so that says something about the company.  They are one of the very few sites that take the big bets, routinely taking bets of $5,000 the same way most sportsbooks take $100 bets. Bookmaker even offers players the opportunity to call and place bets up to $50,000 (or even more if the player requests it).
The thing Bookmaker does best is not JUST set it up for the professional bettors; they also offer $1 bets, mainly for those new to online sports betting or who do it for fun. Bookmaker maximizes their traffic this way, and has an excellent layout on their site. On top of that, Bookmaker also offers a $5 million guarantee for their poker side as an added bonus for sports betters.
Types Of Bets Offered
Bookmaker offers you quite a few fantastic options for their types of bets, including live betting and halftime betting which some sites don't offer. They also offer halftime betting to go with the regular lines before the game. Bookmaker does focus a lot more on "current events"; whichever sports is going on at the current time will be the sport they focus the most on (which is an excellent way to go about it). The standard types of bets bookmaker offers are Parlays, Money Lines, Straight Bets, Points Spread, Teasers, Pleasers, Over/Unders, Prop Bets, Future Bets, If Bets, and Reverse Bets.
Betting Limits
If you ask any professional sports bettors where they play, the chances are that they will tell you that they use bookmaker.eu. This is because they offer the highest limits of any offshore sportsbook. Bettors can bet as much as $40,000 per contest, which is 20 times the maximum bet that many other sports betting outlets offer.
Just as important is the fact that Bookmaker will never chop players' limits when they are winning. Most sports betting websites will start to limit the amount of money players can bet on games after they win a certain amount. This is patently unfair, and the fact that Bookmaker is one of the few books not to engage in this practice makes them one of the standouts in the industry.
2023 Bonus Codes And Promotions
Pick Your Bonus!  There are currently 4 New Player bonuses offered for 2022 with Bookmaker Bonus Code BRAIN:

Bookmaker offers a 10% bonus on all reload deposits, up to $400. Bookmaker has given us a special Bonus Code
BRAIN
to give our readers the best bonus.. Bookmaker's bonuses and promotions aren't overwhelming, but they're still a nice addition- especially for big players.
Rating on Bonuses and Promotions: 9 out of 10
Bookmaker Reputation
The slogan at Bookmaker is, "Where the line originates." There is a lot of truth to this slogan. There is only one or two shops where lines where will be posted earlier than Bookmaker.
There is no better offshore sports betting option than Bookmaker. They are tops in nearly every category. It is really nice to be able to deal with a class sportsbook where your money is safe. Whether you're a big time player, or you're just dipping your toe into online sports betting; you can't go wrong with Bookmaker. They take care of you from the word go- when you set up your account, make your first deposit, make your bets, and even when you need to cash off- Bookmaker has a great overall site.
Sports Offered
Bookmaker offers bets on almost all traditional sports.  The don't have as many "entertainment/tv" betting lines as Bovada though.
Football- NFL and College Football
Basketball- NBA and College Basketball
NHL
MLB
Soccer
Tennis
Golf
Motor Sports
Boxing
Horse Racing
Cricket
MMA
Entertainment and Politics
Have you used Bookmaker.eu before?  If so, please leave your review/ratings below.  This will help other bettors decide if they should be using this sportsbook.