Top Signs that your Sportsbook is Scamming You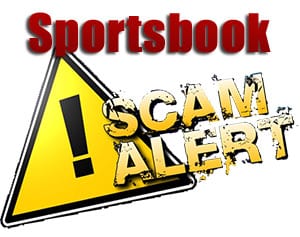 Unfortunately not all sports betting sites are as honest as they should be. While the majority of books have solid reputations, there are stories of firms that have either gone bust or refused to pay out winning bettors. A simple search online will give you a long list of Sportsbooks that are blacklisted or no longer in operation for a variety of reasons.
In the following article I have outlined the common scams found at online Sportsbooks, and the danger signals to look out for. You will then find information on ways in which you can protect yourself from getting caught out by with one of these firms.
Common Scams and Danger Signs
It is not always obvious when a site is not genuine, but here are three of the biggest signs that should make you think twice.
A Sportsbook that you have never heard of sends you an e-mail offering you free money. The e-mail is automatically transferred to your junk e-mail folder. Consider, you haven't signed up for the site and they have your e-mail address – so basically they are cold calling. Be incredibly wary of these sites, there is every chance that if you deposit, you'll never see that money again.
A brand new Sportsbook offers a large signing up bonus as well as very attractive odds, maybe in the form of reduced juice betting. This is a business model that is flawed from the start, and the firm, even if genuine, will struggle to make it pay. Many firms offer good bonuses, and many offer reduced juice betting – rarely do you see a combination of the two.
A Sportsbook appears around the start of the NFL season. The site has great offers on NFL betting, as they know that this time of year is a popular one for the punter and many people will be looking to open accounts. There is a good chance that this site will either take your money and run, or make it very difficult for you to cash out.
Sportsbooks Scams – Protecting Yourself Against the Scammers
Having seen the danger signs, here are some things you can look for in a site that is genuine and can be trusted.
The site has been in the business a long time, perhaps a number of years or more. A site that isn't real or honest will not last very long – they'll come in, take your money and run. Using a site that is established, well known and has a heavy advertising presence would be a good option to lower the risk of being scammed.
Is the site fully licensed in a particular country? Is the site registered with a bookmaking body (IBAS for example)? Does the site have an address? Does the site have a phone number you can call? Is the site signed up for any gambling awareness schemes? These are all questions you can ask, and if you can't answer yes to one or more of these, then you should look a bit closer before signing up and depositing your money.
How many payment options does the site have? A long list of these options is usually a good sign, as financial institutions don't want to be involved with unscrupulous companies, and will drop firms that cause them continued problems. A site that offers just one or two payment methods should seriously set the alarm bells ringing.
Sportsbooks Scams – Overview
In many cases, choosing a site that can be trusted is a matter of common sense – if a site comes along with an offer that is too good to be true, it usually is. By following the steps above, you should find yourself betting in a safe environment, and the only worry you'll have is whether your next wager wins.