Free Expert Sports Picks
NBA Picks
Philadelphia 76ers vs. Washington Wizards Game 4 Betting Preview
The Philadelphia 76ers and Washington Wizards have played in a one-sided series thus far, with the Sixers winning each of the first three games.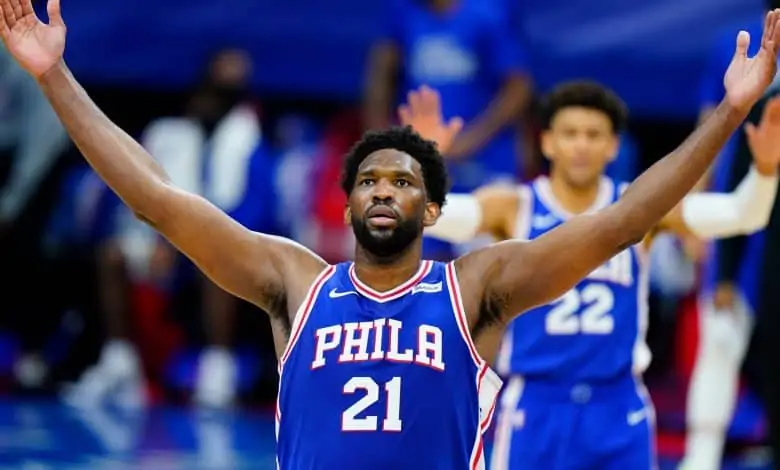 The Philadelphia 76ers and Washington Wizards have played in a one-sided series thus far, with the Sixers winning each of the first three games. And while they look exceedingly likely to advance to the second round in the Eastern Conference of the NBA playoffs, the Wizards will look to at least make them work for it. Here, Washington will look to pick up a win at home to keep their season alive.
Philadelphia 76ers
After surviving the first game of this series in a single-digit contest, the Philadelphia 76ers have won games two and three in resounding fashion. They simply have more consistent scoring options so far in this series, with Joel Embiid and Tobias Harris greatly outperforming the Wizards' duo of Russell Westbrook and Bradley Beal. Now the Sixers have the motivation to avoid playing extra basketball if they can get out with a sweep after Game 4.
The defense of the Sixers has been another real driving force behind their success in the last two games as well. Philadelphia has held the Wizards to just 99 points per game across Game 2 and Game 3, making it much easier for their offense to operate with very little pressure to perform. While this series feels like it is about over, Philly is likely to still bring their best here to get some rest before round two.
Washington Wizards
The Washington Wizards got into the first round of the playoffs by winning in their second play-in game. But things have been a nightmare for them since then, as they have yet to pick up a win against the Sixers. But the Wizards can be expected to play hard in game four to try and keep themselves in this series, if for no reason other than the pride that one can expect from a player like Russell Westbrook.
Westbrook has had a real roller coaster of a series, as he hasn't played terribly but hasn't played up to his normal standards either. On top of that, Westbrook has had to deal with the incident in the second game of the series where he had popcorn thrown at him by a fan, in addition to tweaking his ankle in Game 2. Westbrook, at this point, would love nothing more than to force the Sixers into playing an additional game to make their road in the postseason tougher.
The problem for the Wizards is the fact that they just don't have the quality that Philadelphia does. Their role players haven't been consistent all series long, with Davis Bertans and Ish Smith being especially disappointing. If those two can't show up alongside Westbrook and Beal, the Sixers are going to finish off their sweep without much trouble.
The Pick: Over 230
The Wizards may not win Game 4 and may get swept by the 76ers. But they also should come out and play with some level of pride in this game. For the Wizards, that means that they will at least play some decent offensive basketball, even if their defense doesn't come to play and they are knocked out in four games.