NHL Picks
Washington Capitals Preview 2019 – 2020
Holtby is Key and Ovechkin Invaluable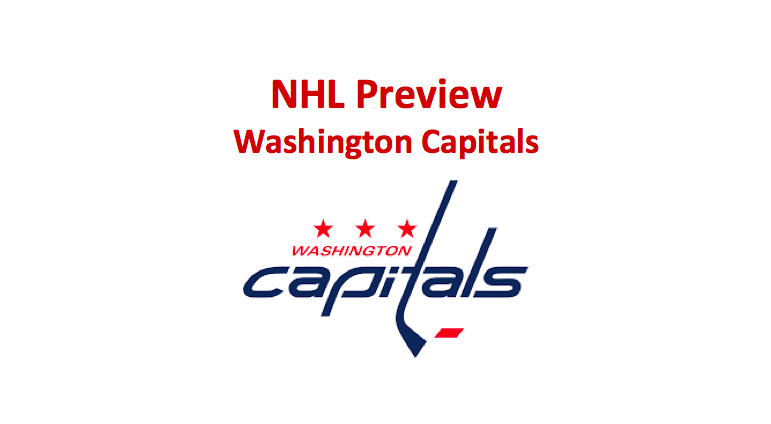 Our Washington Capitals Preview 2019 – 2020 observes that the Caps lost in the 2019 playoff's opening round. Plus, this Washington Capitals Preview notes that happened after winning the Stanley Cup in the prior season. It is a short distance from championship celebration to taking an early playoff exit. Despite the disappointment of last year's postseason, the Caps had a terrific regular season, finishing first in the Metropolitan Division. On the year they posted a 48-26-8 record before losing in seven games to Carolina. The Capitals had a fairly slow offseason compared to the other teams in their division. Our 2019 – 2020 Washington Capitals season preview looks at whether the Caps are in a position to make their sixth straight playoff appearance despite a lack of offseason moves.
Washington Capitals Preview 2019 – 2020: Goaltending
Braden Holtby enters his eighth season as the team's undisputed number one goaltender. He performed in a passable manner last year. Holtby finished with a .911 save percentage and a 2.82 GAA. He started 58 games, and our Washington Capitals Preview 2019 – 2020 finds that he will likely start a high number of contests again this season. The bigger question mark for the Capitals will be how much of a workload Pheonix Copley can handle. Copley spent last season as Holtby's backup and started 24 games. In his first full NHL season, he allowed 2.90 GA per game while stopping .905 percent of the shots he faced. These stats don't point towards Copley being able to handle a greater workload. More teams shift towards having their goaltenders split the season evenly. The Capitals will likely be a team where their starter plays significantly more than the backup.
Washington Forwards
Much like last season, the Capitals will start the year with a key forward suspended. Although this season the suspension will be much shorter. Last season Tom Wilson (22-18-40) was forced to miss the first 20 games. It will be Evgeny Kuznetsov this season, who was suspended for the first three games. Kuznetsov was third on Washington in points last season with 72. While he is a premier talent, the Caps should be able to survive three games without him. Washington will rely on their other top center, Nicklas Backstrom, while Kuznetsov is out. Backstrom was second on the team in points with 74 on the year. He spent much of the 2018-2019 season centering TJ Oshie and Jakob Vrana, each of whom scored more than 20 goals. Oshie had 29 assists to go along with his 25 goals while Vrana finished with 24 goals and 47 points.
Aside from these solid wingers, Washington can always rely on Alex Ovechkin to carry his team's offense. Ovechkin led the NHL in goals for the eighth time in his 14-year career. The Russian superstar had 51 tucks on the year while adding 38 assists. This Washington Capitals Preview 2019 acknowledges that even at the age of 33 Ovechkin should be among the league leaders in goals. He is almost impossible to contain and will be a major reason Washington's offense will be among the best in the NHL.
The one key departure this offseason was Brett Connolly. Connolly had 22 goals and 24 assists last season. Washington will look to replace him either with Carl Haglin or Richard Panik. Panik had 14 goals and 19 assists with Arizona last season. Although he possesses a decent scoring touch he is incredibly streaky. Hagelin spent time with three teams last year, including the Capitals. He had five goals and 14 assists on the season.
Capitals Preview – Defense
The Capitals' stud on the blueline coming into the 2019 – 2020 season is John Carlson. Carlson had a terrific 2018-2019 season. He finished fourth among all defensemen in scoring with 70 points in 80 games. Carlson played 25:04 minutes per game, which was first on his team as well. The right shooting defenseman will contribute on special teams as well and should be among the NHL's top scoring D-men again this year.
Dmitry Orlov and Michal Kempny will also play large roles this season. They finished with 29 and 25 points respectively last year. Kempny also led the team with a +25 plus-minus rating. They will be joined on the blueline by Radko Gudas, who was acquired via a trade in the offseason. Our Washington Capitals Preview 2019 – 2010 finds that Gudas will add a physical presence to the lineup. He had 20 points last season along with the tenth most hits in the NHL. Gudas will be tasked with replacing Matt Niskanen who he was traded for. Niskanen had 25 points and played almost 22 minutes per game last season. Gudas should provide similar offensive output and bring increased grit to the backend.
Washington Capitals Preview 2019 – 2020: Outlook
Our Washington Capitals Preview 2019 – 2020 sees that the Capitals return most of their roster from last season. After finishing first in their division for the fourth straight season, they had little need to make massive moves. Along with having two elite centers in Kuznetsov and Backstrom, the Caps can always rely on Ovechkin to find the back of the net. They also have a true number one defenseman in John Carlson along with a solid group in general on the backend. Their biggest question will be in net. While Holtby has been solid during his career, if he goes down due to injury they lack a proven backup. As long has the Holtby can handle a similar workload to last season, the Caps should be in a very solid position.
Washington Capitals Preview 2019 – 2020: Projection
Record:50-25-7 ,107 points
Finish: 1st in the Metropolitan Division
NHL LINKS
Division Link
NHL 2019 Preview Link