NFL Picks
NFL Pick: Kansas City Chiefs @ Houston Texans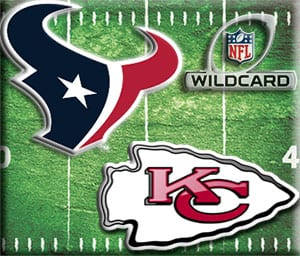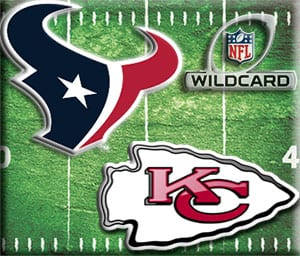 The NFL playoffs return this weekend when the Kansas City Chiefs put their 10-game winning streak on the line in a rematch with the Texans in Houston. The two teams faced off in week one but will meet again under very different circumstances. Will we see Travis Kelce dominate Houston en route to another win, or will the Texans find a way to advance to the second round of the playoffs?
Matchup History
This is not a storied history, as the Texans and Chiefs have oddly only met seven total times dating back to 2003. This will be their first showdown in post-season play, but funny enough it's their second meeting on the year. Kansas City got the best of the Texans in Houston earlier this season, as they routed Houston before Ryan Mallett replaced a benched Brian Hoyer and made the game more respectable. Kansas City leads the series 4-3, but Houston will have a chance to even things up at home this weekend.
Chiefs Preview (-3)
Kansas City has been on quite the wild ride, as they beat the Texans to start off at 1-0, but wound up losing their next five games and then lost star running back Jamaal Charles to a torn ACL. Something clicked from that point on, however, as Kansas City managed to win their final 10 regular season games and unearthed an elite defense in the process. Alex Smith has been the headsy game manager he'd previously been hyped up to be, while free agency acquisition Jeremy Maclin has been a rather explosive weapon from all over the field. Kansas City is different now than they were back in week one when they took down the Texans, but the defense that embarrassed Brian Hoyer is even better than it was then. Add in a more balanced and explosive offense, and the Chiefs understandably are the favorites in this one.
Alex Smith is a better quarterback than he gets credit for, especially in January. #Chiefs are hot and stay that way. Give the points. #KOD

— Mike Greenberg (@Espngreeny) January 8, 2016
Texans Preview (+3)
Houston is the underdog in their second clash with the Chiefs, but not by much for two very good reasons: they're at home and their defense has been about as good as Kansas City's in spots – if not better. J.J. Watt has firmly placed the entire team on his broad shoulders again, almost single-handedly willing the team to the AFC South crown at times. Brian Hoyer and DeAndre Hopkins have played a helping hand, too, while Hopkins specifically broke out with a monster campaign. Hopkins torched the Chiefs in their week one battle, but did most of his damage with the game already decided. Kansas City's defense has stiffened against the pass since then, which could call on Houston to run the ball more in this matchup. With star rusher Arian Foster lost over a month ago, that could prove difficult to accomplish.
The NFL moneyline odds at the BetOnline sportsbook is at -170 for the KC Chiefs and with spread the Texans are now getting +3 points.
The Pick
Houston has a very good defense and it's fair to say they could stifle Alex Smith and a Chiefs offense that is sans Charles and doesn't attack much over the top. That's a fine argument, but KC also can run the ball, has a brute tight end and an elite defense of their own. The real issue for me is whether or not I trust Brian Hoyer to lead a pretty one-dimensional attack past a gritty KC defense. To put it simply, I don't.
There are numbers I don't like for the Chiefs (0-6 ATS in their last six playoff games), but they've been strong on the road (5-3 straight up, 4-0 ATS in last four) and beat these Texans once already this year. They have the better offense, more talent, the better quarterback and are white hot with those 10 consecutive wins. Houston is a very strong 7-2 ATS over their last nine games and is a respectable 5-3 on their home field, but their offense is much more questionable and I don't trust their running game. If the Chiefs jump out to an early lead, I don't like Houston's chances, while I also tend to favor a very smart Smith in a tight game-manager battle.
I see push written all over this one. I'll take the Chiefs to win straight up, but I see it coming by a field goal.