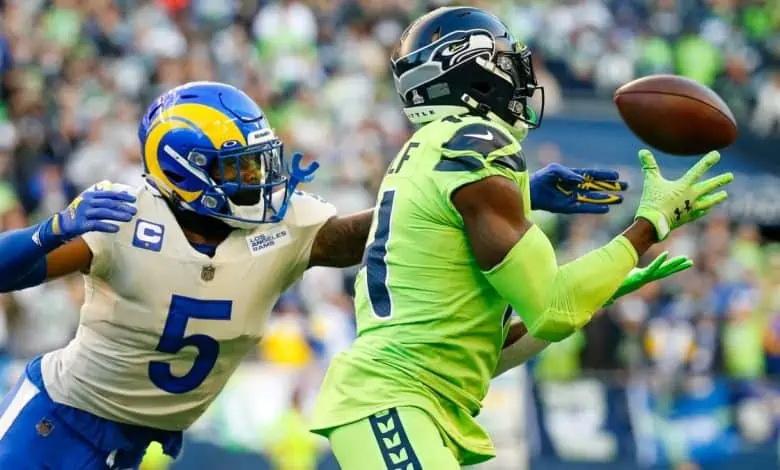 We've all heard of the Super Bowl hangover but this is getting ridiculous for Los Angeles. Heading into the Seahawks at Rams betting matchup for week 13 L.A. has dropped 7 of their last 8 and have struggled to even reach 20 points in a majority of those games. Fans of the star-studded Super Bowl LVI winners are going to need a program to figure out who is on the field Sunday.
Seattle has a great opportunity on the road Sunday as -6.5 favorites, and the Seahawks need a win as they've dropped two in a row. The Seahawks had rattled off four straight wins, and are still just one game back from San Francisco in the NFC West with the 49ers receiving a tough visit from Miami in week 13.
Seahawks a TD Road Favorite
Seattle is a 6-5 on the season, much better than what prognosticators suggested could be the worst team in the NFL this year. When you look at the teams the Seahawks have beat through (Denver, Detroit, Arizona 2X, and the slumping Giants) the case could be made that Seattle is a bit overrated. The only real quality win the Seahawks have posted this year was a 37-23 win at the Chargers in week 7 as +5.5 underdogs.
While Seattle has built their 6-5 record on the easiest schedule in the league so far, the good news for Seahawks fans is that the Rams are not good. Seattle has put up a top 10 passing offense (235.0 ypg) which gets some help from L.A's DT Aaron Donald missing the first game of his NFL career (ankle).
Geno Smith is completing 72.9% of his passes on the year while Tyler Lockett has caught a TD pass in four straight games while DK Metcalf had 11 catches last week in a 40-34 OT loss to the Raiders. Rams CB Jalen Ramsey has the talent to shut down either Lockett or Metcalf, but his job gets tougher without Donald rushing the passer.
Rams Too Banged Up to Stay Close
The loss of Donald for the first time in his 9-year career is tough, but he's far from the only injury the Rams are trying to battle through. QB Matthew Stafford is being held out due to concussion protocols and coach Sean McVay is opting to go with John Wolford after rookie Bryce Perkins was just 13/23 for 100 yards with 2 INTs (1 TD) in last week's 26-10 loss at Kansas City.
Wolford was 24/36 for 212 yards with 1/1 in a 27-17 loss to Arizona in week 10, but he's got almost nobody to throw to on Sunday. Cooper Kupp is out until at least January with an ankle injury and Allen Robinson II also looks shut down for the year with his own ankle ailment.
Seattle's defense can be exploited as they rank 30th in the NFL in total yards allowed, but not necessarily when the Rams starting receivers are Van Jefferson and Ben Skowronek. The Seahawks give up 153.8 ypg on the ground, but the Rams don't even try to run the ball (79.7 ypg).
Free Seahawks at Rams Betting Pick
L.A. is just 2-4 at home this season and after playing three of their last four on the road don't expect a huge reception when the Rams get back to SoFi Stadium. This crowd will almost predominantly be Seattle fans making the two hour flight south and the Rams are just too banged up to contend here.
Free Pick: Seahawks -6.5