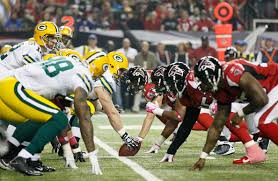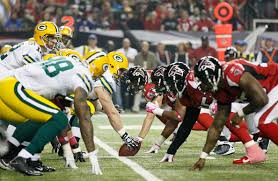 Our NFL free pick features Green Bay playing Atlanta at the Georgia Dome. The kickoff is schedule for 4:25 p.m. This is just one of two late-afternoon NFL games. The Green Bay Packers (4-2) are coming off a 26-10 win against the Bears last week. This Packer team has been uneven this season and they are looking to find their stride.
The Atlanta Falcons (4-3) could easily be 6-1 at this point. What has stopped them from making that mark are two close losses over the past couple of weeks. On October 13 they lost to Seattle 26-24 and last week San Diego beat them in OT 33-30. The biggest problem for Atlanta this season has been their D, which is allowing an average of 400 yards of offense per game.
Green Bay Offense vs. Falcons Defense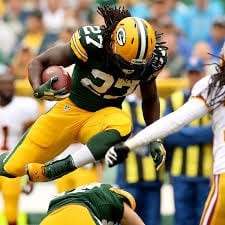 The Packers offense is averaging 23.3 PPG. That's about average. There are two keys for this team. The first is RB Eddie Lacy (71 ATT, 360 YDs, 5.1 AVG). Lacy needs to be able to run and balance the offense. The second key is Aaron Rodgers (62.4 COMP%, 13 TDs, 4 INTs, 11 Sacks) and the Green Bay pass attack, which has been successful when Rodgers utilizes short passes on sustained drives. Not only does this often result in a score, but it allows Green Bay to control time of possession.
The Atlanta defense is giving up an average of 28.4 PPG. If Atlanta QB Matt Ryan can win this game, they can lose it. Their stats aren't bad as they have 15 sacks, 16 TFL, 29 PD, six INTs, and seven FF. But they are allowing teams 308.1 yards in the air per game. That offers opponents overwhelming opportunities. Plus, even in most of their wins, the defense is allowing team's too many points.
Atlanta Offense vs. Packers Defense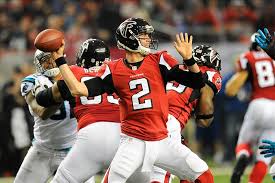 There's not a lot that Atlanta QB Matt Ryan (67.7 COMP%, 16 TDs, 4 INTs, 18 Sacks) can do about his defense. They will have to do their part of the Falcons are going to win this game. Ryan leads an offense that is averaging 32.7. Ryan has a fine group of receivers, which includes standout WR Julio Jones (40 REC, 830 YDs, 20.8 AVG, 4 TDs) and workhorse TE Jacob Tamme (20 REC, 191 YDs, 9.6 AVG, 3 TDs). RB Devonta Freeman (105 ATT, 508 YDs, 4.8 AVG, 2 TDs), who is questionable for today, is a key part of the Falcon offense.
The Packer D has been solid. They have accumulated 17 sacks, 29 TFL, five INTs, and six FF. Of those six forced fumbles they've recovered three. LB Nick Perry (26 TCKL, 5.5 Sacks, 3 TFL, 2 PD, 1 INT) and safety Morgan Burnett (29 TCKL, 1 Sack, 5 PD, 1 INT) need to have big games today in order to contain Ryan. Ryan has been sacked 18 times this season. Green Bay would like to exploit his propensity for being knocked down behind the line of scrimmage. The Packers are allowing opponents just 20.5 PPG.
NFL Free Pick Features Green Bay Playing Atlanta
NFL free pick features Green Bay playing Atlanta in a game that looks very close to call. We expect Ryan to perform well, but we also look to Rodgers to do the same. Green Bay comes into this game with a long list of injured players whereas Atlanta's roster is fairly healthy. This is a big game for both teams, but especially important for Ryan and the Falcons. However, we can't help but see the inequity between these two teams when it comes to defense. We're taking Green Bay at +3.0.
NFL Free Pick Features Green Bay Playing Atlanta: Take Green Bay at +3.0