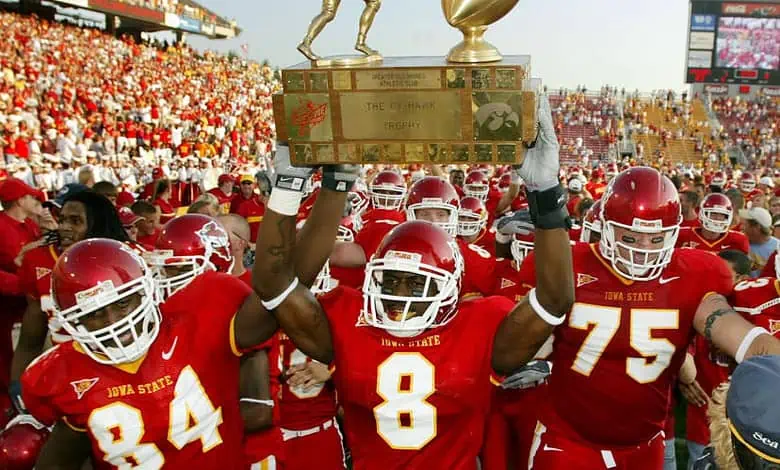 It's rivalry day in Ames for the annual week 2 Iowa at Iowa State betting matchup. Both schools got their 2023 campaigns off to a winning start last week, with the Hawkeyes beating Utah State 24-14 and ISU picking up a 30-9 victory over Northern Iowa.
The Cyclones haven't won a home game in the Cy-Hawk Series since a 44-41 victory in 3OT back in 2011. That score was an anomaly, because usually when these two rivals meet up it's a low scoring affair just like the 10-7 Iowa State win last season. Saturday's O/U is just 36, and the Hawkeyes are a -4 point road favorite and 64% of the betting public likes the visitors in this spot.
Why Iowa Has Value at -4
Defense has never been a problem in Iowa City, but the Hawkeyes have traditionally struggled to find any competency at the quarterback position. Coach Kirk Ferentz hopes those days are behind him after bringing in Michigan transfer Cade McNamara in the offseason.
It's early, but McNamara looks to be an upgrade from last year's staple of Iowa QBs that famously had more punts (10) than points in their 2022 season opening 7-3 win over South Dakota State. McNamara's first pass as a Hawkeye was a 36-yard TD to Seth Anderson and he finished 17/30 with 2 TDs.
If Iowa can get some offense this season, their defense should be its usual stellar self even after losing a few of last year's stars to the NFL like LB Jack Campbell, DE Lukas Van Ness and DB Riley Moss. LB Jay Higgins had 12 tackles and 4 assists last week in the victory over Utah State so he'll likely be a staple of this Iowa unit in 2023.
Why Iowa State Has Value at +4
Home underdogs in rivalry games are always worth a look, especially in this series where three of the last five meetings have been decided by 3 points or less and none over that span being more than a 10 point margin. ISU may be a bit better than oddsmakers expect in 2023 considering their season opening 30-9 victory over UNI that came as just a -7 point favorite.
Iowa State's offense was very efficient last week, with QB Rocco Becht completing just 10/13 passes but with 2 TDs. The Cyclones didn't put a whole lot on film in week 1 being up 23-0 at the half, so the Hawkeyes are coming into the week 2 Iowa at Iowa State matchup kind of in the dark.
Iowa State's defense looked good in the opener, holding UNI to single digit points and just 106 yards rushing on 37 attempts. The Cyclones racked up 5 sacks, and also got 2 INTs from Jeremiah Cooper who was named the Big 12 Defensive Player of the Week.
Free Week 2 Iowa at Iowa State Betting Pick
Both teams started off with a win last week, but the point could be argued that Iowa's 10-point win over Utah State was actually a bit underwhelming considering they were -24 point favorites. The +4 points at home is just too many for Iowa State to be getting in a rivalry that has usually been settled by a field goal in recent meetings.
Free Pick: Iowa State +4