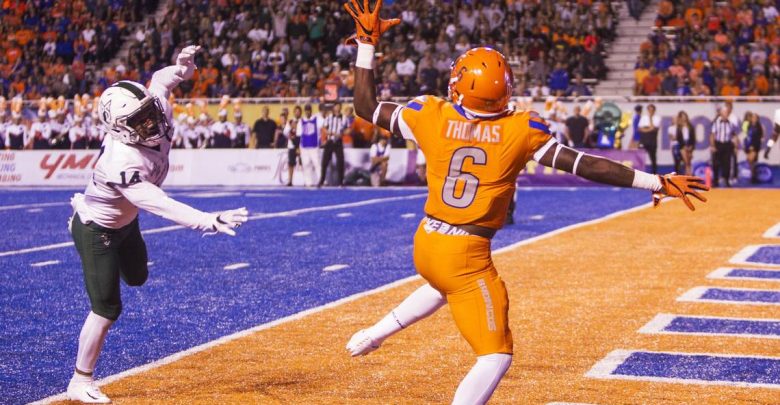 Oddsmakers had originally made the Broncos -9.5 favorites in the NCAA week 4 Air Force at Boise State free pick. That number has since dropped slightly to -7.5 even though the Falcons have started off their season 2-0. Air Force is going to ground and pound the ball in this tilt, does that give them the edge to keep this one close or do you need a more diverse offense to win on the blue turf?
Air Force Off to a Positive Start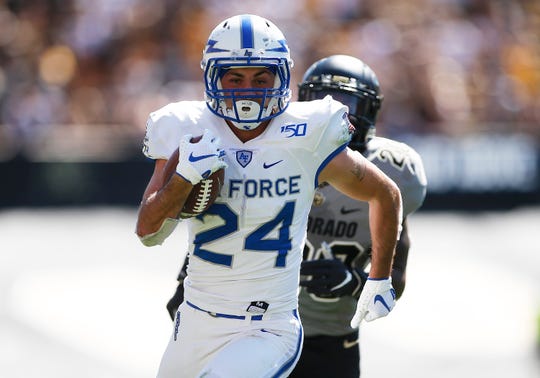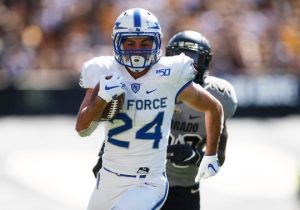 The Falcons couldn't have asked for a better start to their 2019 campaign. AFA scored a convincing 48-7 win over Colgate in the opener, then enjoyed an off week before rolling into Colorado and upsetting a good Buffaloes squad 30-23 in overtime. In the process the Falcons have produced the #2 rushing attack in the country and have a top 10 scoring defense in points allowed.
One thing that will help Air Force on Friday night is that they have a bevy of runners to wear down the Boise State defense with. Kadin Remsberg has 208 yards through two games while Taven Birdow has added 147. Air Force has started off 2-0 despite QB Donald Hammond III failing to get going yet with just 155 passing yards and 48 rush yards. The Air Force defense held Colgate to just 86 passing yards and limited a good Colorado offense to a respectable 325.
For AFA to get the win in the NCAAF week 4 Air Force at Boise State free pick, they'll have to get more than just a solid running game going. That's because in last year's meeting between these two squads Air Force had 201 yards rushing and still lost by 10. That was with an additional unprecedented 10/15 for 210 yard night passing from Isaiah Sanders – and the game was in Colorado Springs.
Boise State on Their Usual Roll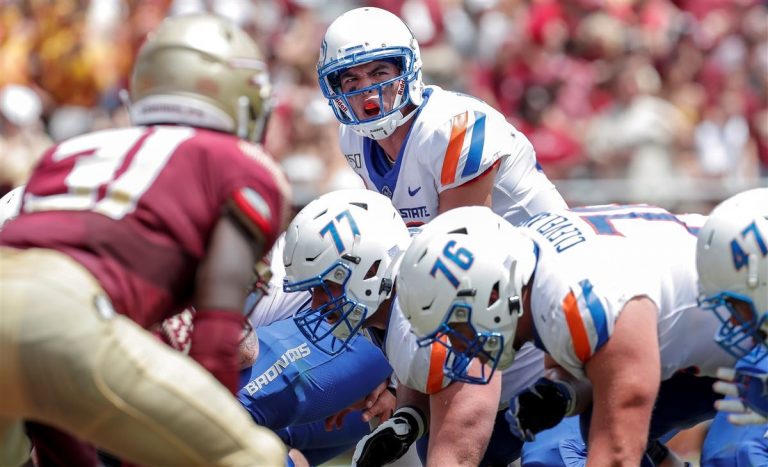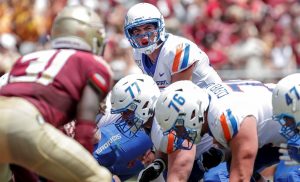 The Broncos, perhaps unexpectedly, have started the year 3-0. Their biggest challenge so far was a 36-31 win in Tallahassee where Florida State was a -6.5 underdog. The Broncos were in a close battle with Marshall in week two (14-7 as -14 point favorites) and then steamrolled Portland State 45-10 a week ago.
There are two big factors going for the Falcons in the NCAAF week 4 Air Force at Boise State free pick. The first is that Marshall kept things within a TD at Albertsons Stadium two weeks ago despite being outgained 437 to 172. The other reason to be optimistic for Air Force is because former Bronco QB Brett Rypien is a member of the Denver Broncos now. In last year's meeting Rypien threw for 399 yards and 5 TD vs. Air Force. BSU still isn't 100% sure what they have in new signal caller Hank Bachmeier as he has 4 TD passes but 3 INT on the year.
Air Force also exploited the Boise State pass defense a year ago for 242 yards despite averaging just 131 in 2018. That wasn't even with Hammond in at QB. Once Air Force made the switch with 5 games left, they averaged 100 more yards per game.
NCAAF Week 4 Air Force at Boise State Free Pick
Bettors are going to remember getting burned by the Broncos on the blue turf in week two, winning by a TD over Marshall but failing to cover the 2 TD spread. Friday night's game opened as Boise State -9.5 but has fallen to just -7.5. The Broncos won by 10 in Colorado Sprints a year ago, but will not be as surprised by the Falcon passing attack in this one. Hammond has hype for AFA, but has been a non-factor through two games.
Pick: Boise State -7.5