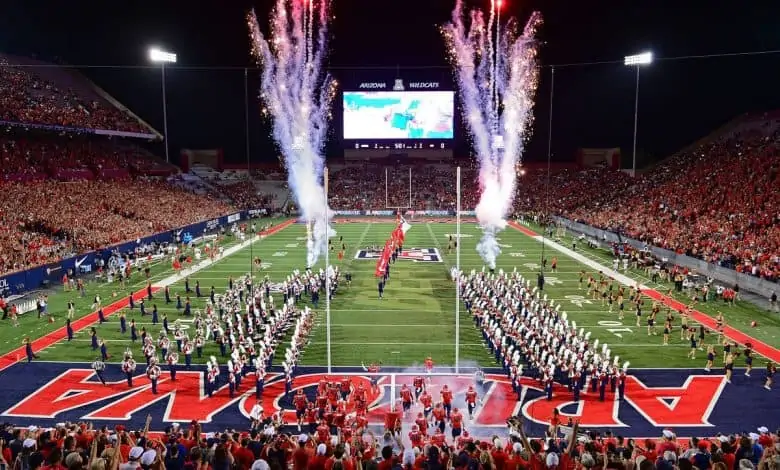 The Colorado at Arizona pick on Saturday night (7 PM EST, FS1) would seem to give a lean towards the Buffaloes out of the gate. CU has started the year 3-0, finally getting some respect as a -6 home favorite in a 20-10 win over San Diego State last week.
Arizona is 0-3 to begin the 2020 campaign, and oddsmakers don't respect the Wildcats making them underdogs in all three tilts so far. The Wildcats seem to be regressing since their 30-34 loss to USC in the season opener, losing their last two by 17. Does that make Colorado -8 a good play even on the road in Tuscon?
How Is Colorado Good – Or Are They?
A 3-0 didn't seem to be on the Buffalos' radar after they lost veteran QB Steven Montez, playmaking WR Laviska Shenault, and coach Mel Tucker from last year's team. Colorado seems to be thriving on addition by subtraction though in starting out the season with a 48-42 win over UCLA (as +6.5 underdogs), followed by going on the road at Stanford (35-32, +10), and beating San Diego State last week (20-10, -6).
The Buffalos starting QB Sam Noyer played Safety last season, so it would be easy to forgive the Colorado offense from struggling out of the gate. Noyer hasn't played bad though as Colorado has the respectable #6 offense in the Pac 12.  The Buffs have put up the 3rd most points per game in the conference (34.3), but even CU fans are wondering how.
Noyer threw for only 138 yards last week with 4.4 yards / attempt against San Diego State and Colorado still pushed their record to 3-0. It was the Buffalos defense that stepped up in that game, limiting San Diego State's top 25 rushing attack to just 79 yards on 31 carries.
How Can the Wildcats Pull this One Off?
San Diego State has a good running game and was shut down by Colorado, forcing Aztecs QBs to throw for just 76 yards. That performance by the Buffs D doesn't breed a lot of confidence for Arizona, who has started off the season 0-3 behind losses vs. USC (34-30), at Washington (27-44), and at UCLA (27-10).
Arizona has the 3rd worst defense in the Pac-12, but to balance that out they also have the 3rd worst offense. Despite playing just one game on the road this season, Colorado's defense has been stout ranking 18th vs. the rush and 27th in total yards per game.
The Wildcats did give up 44 points to Washington though, and actually fell down 37-0 to the Huskies at one point. Teams can run all day against Arizona as their 229 ypg allowed per game is 117th in the country, barely beating out the 35.0 ppg allowed which is 101st in the nation.
Free Colorado at Arizona Pick
The Buffs have a great chance of pushing to 4-0 against a winless Arizona squad. 8 points is crazy for a Colorado team that is at this point almost by accident though. CU squeaks out wins – it's what they do – as their 3-0 record has come by a combined winning margin of just 19 points. Too many points to give in a game in which it wouldn't be a shock if Arizona won outright.
Colorado 20 – Arizona 27
Free Pick: Arizona Wildcats +8