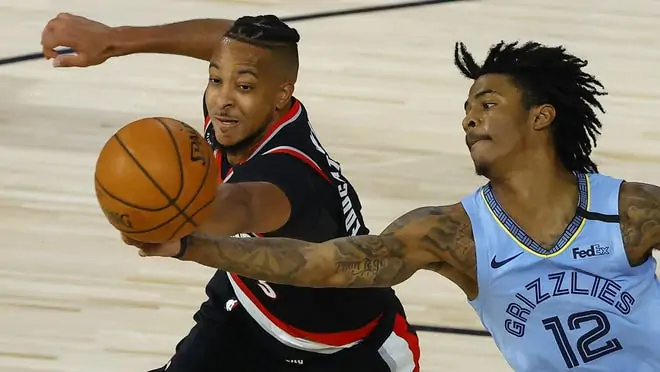 It might be hard to pull the trigger on Portland in the April 25th Grizzlies at Trail Blazers betting matchup. Terry Stotts' team is a -4 point favorite, but also in the midst of a 4-game losing streak. One of those defeats was 130-128 against this Grizzlies team on Friday night also as -4 favorites.
The Memphis offense is in a groove right now, scoring 126+ in 4 of the last 5. Sunday's contest with Portland has a betting total of 235.5, meaning defense looks to be optional yet again. Take the points in another close tilt or is this a 'get right' game for the 'Blazers?
Memphis Tuckering Out Soon?
The Grizzlies have run an incredible pace lately, tied with Washington for the most possessions per game over their last three outings. That tempo, combined with the Grizzlies playing their 6th in a 7-game road stretch could lead to the wheels falling off in one of these contests.
The good news is that Portland's defense doesn't really put the pressure on a possibly fatigued team. The Trail Blazers rank 25th defensively vs. opposing PGs, and that was very evident as Ja Morant went for 33 points and dished out 13 assists in Friday's win.
Everybody was scoring for Memphis in the last win over Portland though. Dillon Brooks had 25 while Jaren Jackson, Jr. had 23 while playing just his second game of the year. Jackson is going to sit out Sunday's game, but the Grizzlies could get big man Jonas Valanciunas (concussion) back. Memphis already outscored Portland 74-58 in the paint in Friday's game.
What Can Portland Do?
Another game, another loss for the Trail Blazers who seem to be hitting a wall to wind down the season. Portland has gone just 3-9 in the month of April, which has dropped them to 7th in the West, just 1.5 games up on the Grizzlies.
One of the big reasons for Portland's struggles is because Damian Lillard might not be completely healthy. Lillard missed three games with a bum hamstring, and has scored just 22 and 27 points in the two games since his return. Lillard doesn't have a 30+ point game since April 2nd.
CJ McCollum has also hit a scoring lull, failing to break the 30-point mark since March 25th. One of the reasons Portland was doing better this season was because for all the points that Lillard and McCollum give up with their defense, they were at least getting some back on offense. If that duo isn't scoring an inordinate amount of points, they're almost a liability.
Free April 25th Grizzlies at Trail Blazers Pick
Portland is a tough back right now, even at home. 62% of the public is still on the Trail Blazers, but let them be. Lillard isn't scoring right now, possibly isn't healthy, and he's up against the blitzkrieg pace that Memphis has played lately.
If the Grizzlies get Valanciunas back, that a guy who has a double-double in 20 of the last 23, coming off a game in which Memphis just dominated Portland in the paint.
Memphis 128 – Portland 121
Free Pick: Grizzlies +4