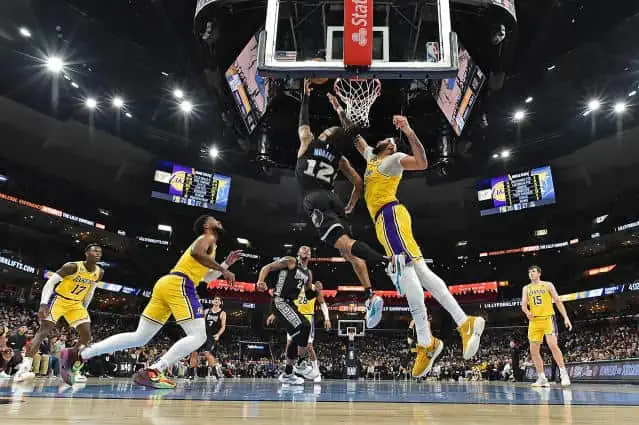 Los Angeles hasn't had much success since their 2020 World Championship in the bubble, getting knocked out in the first round in 2021 and missing the playoffs in 2022. L.A. will try to start to reverse that trend in the Lakers at Grizzlies Game 1 betting matchup, and oddsmakers have the #2 seed Grizzlies as just -4 point favorites in a line that seems a bit off.
Granted the Lakers did take two of three in the season series, but Memphis has rested all week and was a remarkable 35-6 at the FedExForum this year. Close to 70% of the betting public likes the Grizzlies here with no line movement, so the Spidey senses are tingling on this spread.
Why the Lakers Can Cover +4 Points
The line itself is what gives Los Angeles some hope here, as it seems like Memphis should be a 7 or 8 point favorite at least as they were just 2GB of being the top seed in the Western Conference. Memphis has been off since last Sunday's regular season finale, while the Lakers – who aren't exactly young – had to survive an OT play-in game win against the Timberwolves on Tuesday.
It's not just a suspicious line that gives L.A. a chance at the upset (or at least cover) in the Lakers at Grizzlies Game 1 betting matchup – this is still a pretty talented team when healthy. Lebron James has had a couple postseason disappointments in a row after the '20 NBA Finals win, so he's got to be cherishing a return to the limelight – and the 38-year-old is still playing well with a 28.9/8.3/6.8 stat line this season.
While James will likely put up his usual solid numbers, the big X-factor for the Lakers is the fact that Anthony Davis is seemingly healthy and playing at an elite level. Davis scored 37+ points in four of five games over a stretch at the end of March and into early April and has grabbed 13+ rebounds in four of his last five overall.
Why Memphis Can Cover -4 Points
The Grizzlies were knocked out in the second round of the NBA playoffs last season by eventual champion Golden State but at least that was an improvement over their first round exit in five games against Utah, so this team seems to be taking steps every year.
The Grizzlies were 20 games over .500 this season, and were the NBA's best team at home with a 35-6 record. That mark at FedExForum also comes with a 16-25 record on the road, so Memphis should realize how important it is to defend their home court because things might not go so well when the series shifts back to Los Angeles.
Memphis will likely be without big man Steven Adams for the postseason due to a knee injury, a big loss on the defensive interior but also maybe a great opportunity to play smaller and even faster than the league's #6 pace during the regular season. Jaren Jackson, Jr. is a defensive POY nominee so he'll be able to pick up the slack in Sunday's game 1.
Free Lakers at Grizzlies Game 1 Betting Pick
Do the Lakers have an upset in them? Memphis was great at home this year, but one has to wonder how healthy they really are late in this long season with the likes of Jackson, Jr., (elbow) Ja Morant (hand), Desmond Bane (knee), and Dillon Brooks (groin) all probable but still on the injury report. Ultimately you have to play the line in this one – it's too low, it's getting hammered, and there's no movement which points to the Lakers covering the number.
Free Pick: Lakers +4