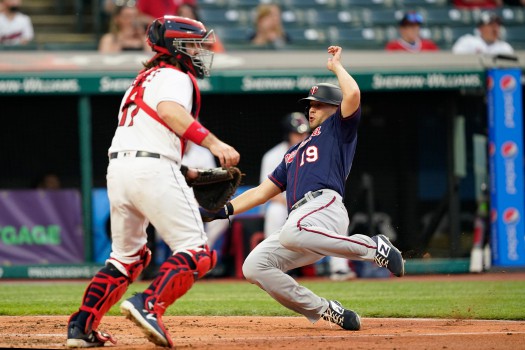 Minnesota is hoping for a similar offensive output that they had in Friday's series opener when they head to the May 22nd Twins at Indians matchup. The Twins cruised to a 10-0 win at Progressive Field, their 3rd win in the last five games.
Things are going to be tougher for the Twins on Saturday afternoon though, as they're up against reigning Cy Young winner Shane Bieber (4-3, 3.17 ERA). Cleveland is a -170 favorite, but the right-hander had his share of struggles last time out. Does that give Minnesota some value at +150?
Maeda Goes for Minnesota
Last year Minnesota as a +150 underdog in a Kenta Maeda (2-2, 5.26 ERA) start would have been hammer time. The Twins starter was 6-1 with a 2.70 ERA in 2020, finishing 2nd to Bieber in AL Cy Young voting.
It's been a different result this year for Maeda however. The Twins are just 2-6 in his 8 starts, and he hasn't been able to get out of the 6th in six straight starts. Maeda allowed 5 ER over 5.2 IP in a start against the Indians on April 27th, and to top things off he's dealing with groin stiffness – having this start moved back a day.
The May 22nd Twins at Indians matchup will be the first time Minnesota faces Bieber this season. The Twins are hoping Friday night's 10-run outing hasn't dried up their offense, even though 9 of their runs came in the 4th inning. The Twins hit just .220 as a team vs. Cleveland, but Josh Donaldson has gone 3-8 with 2 HRs vs. the Indians starter.
Cleveland Ready to Tie the Series
The Indians trail the White Sox by 2.5 games in the East, and with Chicago having a tough series at the Yankees over the weekend it's a great opportunity for Cleveland to make up some ground against the last place Twins. That wasn't the case in game one however, with Minnesota knocking out starter Triston McKenzie after just 3.1 IP.
Having to use some extra relievers normally wouldn't be a problem heading into a Bieber start, but the right-hander has some questions to answer after his shortest start in two years. Bieber walked 4 and last just 4.2 IP in a 3-2 loss to the Mariners last time out. He allowed 0, 2, and 3 ER in three starts vs. the Twins last season over 21.0 IP.
Bieber should be fine on Saturday, as he has 8+ K's in 8 of 9 games this season but what about the Cleveland offense? The Indians were shut down and held to just 3 hits by Randy Dobnak on Friday, and he was called up right before the game. Franmil Reyes and Cesar Hernandez have combined for 5 HR off of Maeda over 43 ABs.
Free May 22nd Twins at Indians Pick
We've seen a lot of teams lay an egg following a blowout win in the MLB this season, and that's the spot the Twins are in on Saturday afternoon. Minnesota's 10-run output on Friday was impressive, but the results will be largely different in game two. Maeda has a 6.38 road ERA this season, so the Indians bats will have a bounce back.
Indians 7 – Twins 2
Pick: Indians -1.5 (+125)