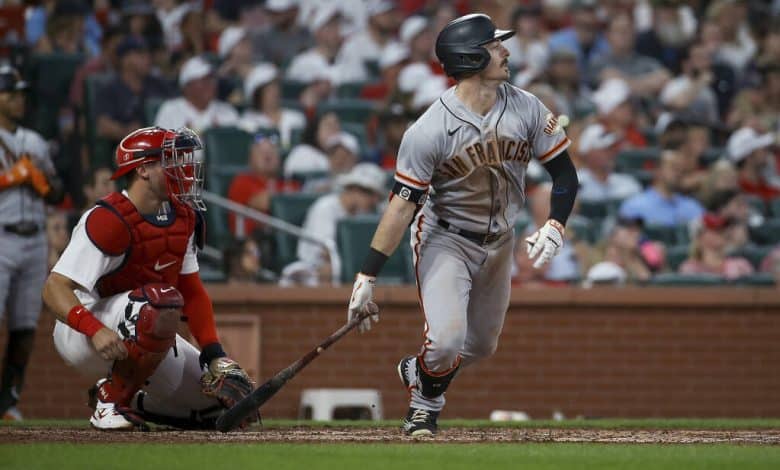 San Francisco is on fire coming into the May 14th Giants at Cardinals betting matchup, winners of six straight games. That includes Friday's 8-2 series opener with a -121 price tag, which gives SF some great value at just -105 on Saturday afternoon.
St. Louis split a 4-game series in San Francisco last weekend, but have struggled since then dropping two of three at home to Baltimore and then having another offensive dud on Friday night. The Redbirds have now dropped five of their last six, scoring three runs or less in four of those defeats.
Giants Offense Clicking
San Francisco scored 8 runs on 8 hits on Friday night. The big blows came in the 8th inning when an Evan Longoria double and a Curt Casali HR led to a 5-run frame. The Giants have now scored 8+ runs in five games during their six game win streak, that includes a 13-7 rout of the Cardinals last Saturday.
It might be easier to note who isn't red hot for the Giants right now, with 7 players hitting above .300 over the past week. Darin Ruf is 6 for his last 10 while also drawing three walks to post a .714 OBP over the last five games. LaMonte Wade has knocked in 5 RBI in his last 4 games and Wilmer Flores had 6 RBI in last Saturday's win over the Cardinals.
Jakob Junis (1-0, 1.20 ERA) won't need a ton of run support from his Giants offense if he continues to pitch like he has the last three outings. The right-hander held the Cardinals to 3 hits and 2 runs last Sunday as San Francisco pulled off a 4-3 win as -132 home favorites.
Cardinals in a Skid
The St. Louis bats face Junis for the second time in a week with Juan Yepez belting his first career HR in the last meeting. The rookie Yepez is hitting .382 so far in his 9 game MLB career and has become must-watch ABs for many Cardinals fans.
Paul Goldschmidt knocked in both St. Louis runs on Friday night with a groundout and a solo HR. Goldy is on fire with a .421 batting average over the past five games and has multiple hits in four of the last six. Goldschmidt and Yepez have had to pick up the slack for a slumping Tyler O'Neill (1 for his last 12) and Nolan Arenado (2 for his last 20).
Dakota Hudson will try to slow down the San Francisco offense in the May 14th Giants at Cardinals betting contest. Hudson had two straight starts not allowing a run, but has allowed 3ER in each of his last two (10.2 IP). Hudson lasted just 4.2 IP against the Giants on Sunday, but is 1-0 with a 2.70 ERA in two home starts.
Free May 14th Giants at Cardinals Betting Preview
The Giants at -105 is somewhat surprising considering they are on a six game win streak. San Francisco was -132 last Sunday in the Junis vs. Hudson matchup and although that was in the Bay, SF still looks like they would be the easy play here – the too easy play. 69% of the betting public is on the Giants, which is too high of a number.
Free Pick: St. Louis -115