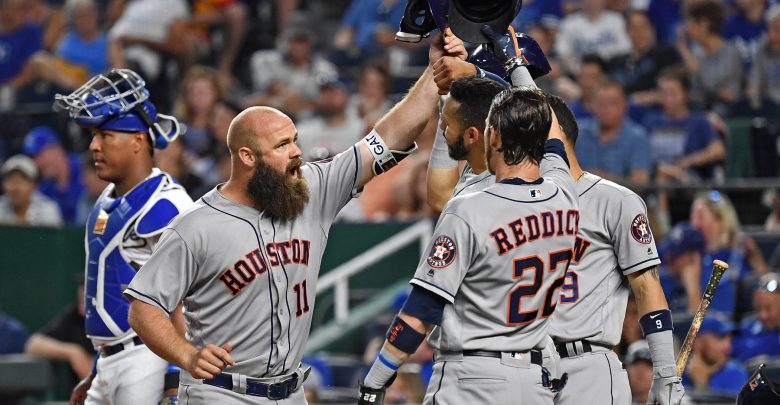 There are a lot of factors in play for the June 16th MLB free pick between the Astros and Royals. First off we've got Dallas Keuchel on the mound which would automatically assume an 'under' play. Danny Duffy is on the bump for Kansas City which would then seemingly take that pick on the 'over' side. Not only have those two pitchers reversed roles lately, we've got a wind blowing out to left at 15 MPH and game time temperatures around 93 degrees. These factors would lead to an 'over' pick – but Kaufman is also one of the top pitching parks in the league. Confusion abounds as oddsmakers have set today's total at 9.5.
Houston Huge Favorites on the Side Part of Today's Game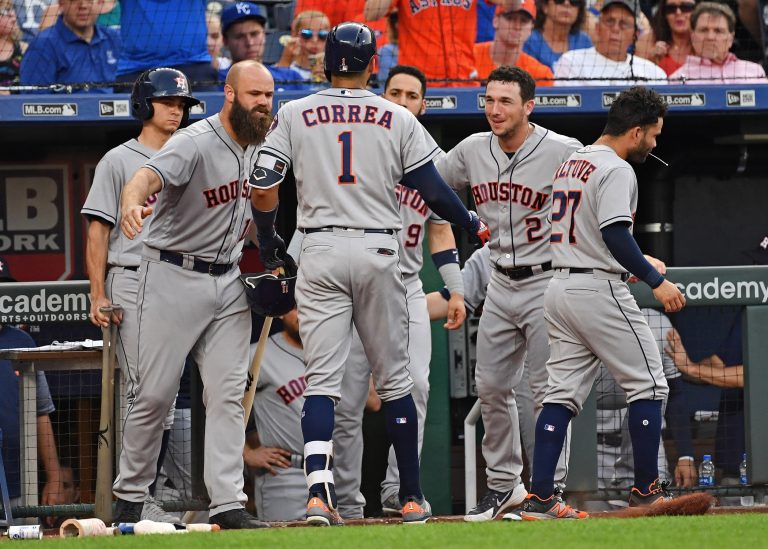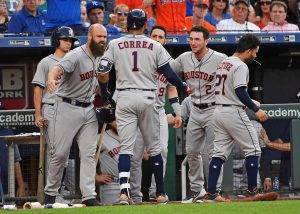 Dallas Keuchel (3-8, 4.45 ERA) is on the mound for NL West leading Houston vs. Kansas City who is last in the AL Central by 14.5 games. It makes sense then that the Astros would be big favorites in the June 16th MLB free pick but the line of HOU -265 does seem a bit excessive. After all, Keuchel is 0-3 in his last 5 starts with a 7.33 ERA. He's given up 16 total runs his last three starts, including 5ER allowed on 13 hits to Texas the last time out. Keuchel gave up 3 HR two starts ago to Seattle The lefty could get back on track today as he allowed just 1ER on 2 hits in his only start against the Royals last year.
One thing you always have to be wary of when betting totals on Houston is their #2 scoring offense in the league that is also tops in BA, 3rd in OPS, and 5th in HR hit. That offense has continued their roll lately with 27 runs the last 3 games including a 7-3 win in Kansas City last night. The Astros are in the midst of a 10-game road trip, one that they've gone 8-0 on so far. They've averaged 7+ runs over that span and almost everybody is rolling for Houston as Carlos Correa, Yuli Gurriel, and Tony Kemp are all everyday players hitting over .400 the past week.
Can Duffy Keep His Recent Success Going?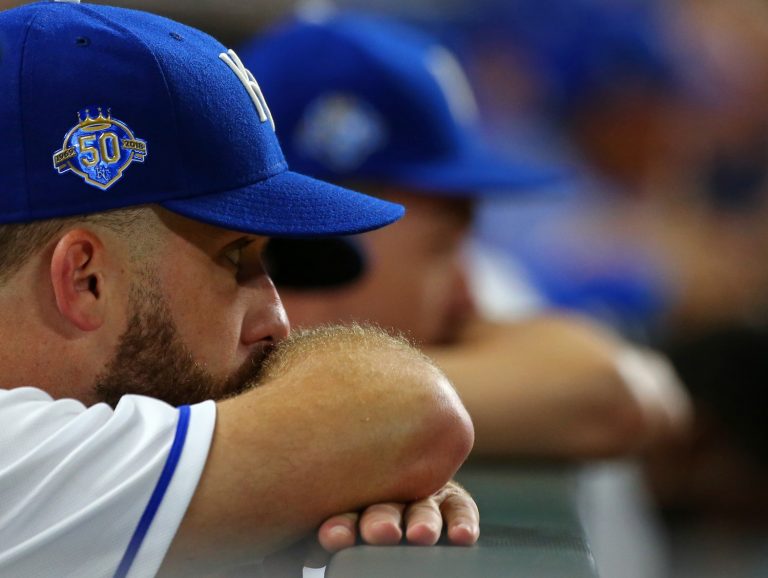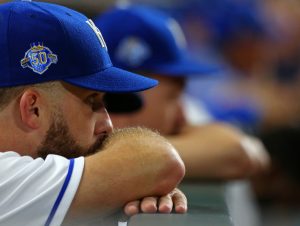 Kansas City LH Danny Duffy (3-6, 5.28) was one of the easiest 'over' bets of the early 2018 season. In a 5 start stretch from April 21st to May 13th Duffy gave up 25ER in 26 IP. He has settled in nicely lately however with three starts of 1ER or less allowed over his last 4. This includes a 7 IP, 3H, 0ER performance the last time out in Oakland with 10 K's. Duff Man got the win in his only start against Houston last year, pitching a gem with just 2ER allowed over 7IP.
The odds are Duffy is going to have to be good in the June 16th MLB free pick mostly for the fact that Kansas City has little to no offensive backing. The Royals are 3rd to last in the majors in scoring and have the 26th ranked OPS. KC has scored just 14 runs total over their last 9 games – Houston has 14 in their last two. After Whit Merrifield's .364 average over the last 7 days, the next hottest Royals hitter is Alex Gordon who rings in at a whopping .227.
June 16th MLB Free Pick – Total Betting
This game is all over the map when it comes to the O/U play. On one hand it's been Keuchel giving up the runs lately but at the same time the Royals offense is one of the worst in the majors. On the flip side Danny Duffy has been great over his last four starts – but he's up against a red hot Astros offense. Since those two sides basically wash each other out, we have to look at weather being a deciding factor. It's a 90+ degree day with a strong wind out to left. If the Astros can get us 6-7 runs on their own, the Royals should be able to scratch a couple in on this great day for batters.
Free Pick: Houston Astros / Kansas City Royals *Over* 9.5